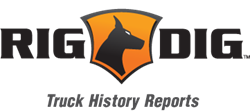 We at RigDig ... look forward to helping Commercial Truck Trader's visitors save time and money and make smarter used truck purchasing decisions.
Charlotte, NC (PRWEB) November 06, 2013
RigDig is proud to announce that it will offer three complimentary RigDig Truck History Reports through its partnership with Commercial Truck Trader (TruckTraderOnline.com), the industry leader serving sellers of light, medium and heavy-duty trucks and trailers through the end of 2013. Through this partnership, individuals searching for a truck on CommercialTruckTrader.com will have the option to get a free 3-pack of RigDig Truck History Reports on any piece of listed equipment.
"We are very excited to partner with Commercial Truck Trader on this offer," said James Vogel, General Manager of RigDig. "Each of the 110,000 weekly visitors to CommercialTruckTrader.com will now have the ability to sample the unmatched truck history and data of RigDig Truck History Reports in combination with Commercial Truck Trader's unparalleled truck listings."
"Commercial Truck Trader's number one goal is to provide the best service possible to its users," Vogel said. "We at RigDig share that goal and we look forward to helping Commercial Truck Trader's visitors save time and money and make smarter used truck purchasing decisions."
To activate their three complimentary reports, visitors to TruckTraderOnline.com should search for the particular type of heavy-duty truck they are interested in. Once they have identified a potential purchase, users can either click on the "Get a RigDig" link or "Free Truck History Report" button on the truck listing page. If RigDig has information on that truck, they will be directed to RigDig.com to set up a user account and redeem their three complimentary reports.
About Commercial Truck Trader and Dominion Enterprises
Commercial Truck Trader is a division of Dominion Enterprises, a leading marketing services company serving the automotive enthusiast, commercial vehicle, real estate, apartment rental, and employment industries. The company's businesses provide a comprehensive suite of technology-based marketing solutions including Internet advertising, lead generation, CRM, Web site design and hosting, and data management services. The company has more than 67 market-leading websites, such as ForRent.com, Homes.com and TraderOnline.com, reaching more than 20 million unique monthly website visitors. Headquartered in Norfolk, Va., the company has 5,400 employees in more than 200 offices nationwide. For more information, visit http://www.DominionEnterprises.com.
Beyond online classified advertising that brings commercial truck buyers and sellers together, CommercialTruckTrader.com provides commercial truck dealers (both independent dealers and franchise dealers) with an array of business services. These services include inventory management, Business Intelligence reports that equip truck dealers with pricing and demand data, lead management and tracking for improved follow up, and advertising that includes video.
About RigDig
RigDig was developed by the researchers at EDA (http://www.edadata.com), a division of Randall-Reilly that has been compiling equipment-related information in trucking, construction and other industries for more than 20 years. Powered by the most comprehensive and trusted information sources available, RigDig Truck History Reports help fleet managers, dealers, contractors and owner-operators make more informed used truck purchasing decisions. As the first vehicle background check designed specifically for the commercial truck market, RigDig combines a variety of data sources that identify junk and salvage vehicles, total loss insurance claims, title and odometer brands, accidents, inspections, ownership and cargo records and CSA scores.
Founded in 1934, Randall-Reilly (randallreilly.com) provides its 4000+ clients with strategic marketing services focused on the trucking and construction industries. Its diversified portfolio includes award-winning, multi-channel media brands, data services, research, events, and marketing services.
For more information, please contact RigDig at (866) 237-7788 or support(at)rigdig(dot)com