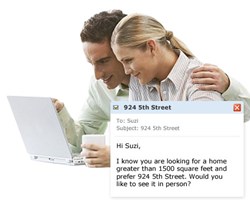 Conversations develop relationships that culminate in closed transactions.
San Diego, California (PRWEB) November 07, 2013
Zillow, Inc. (zillow.com) announced that it selected Zurple, Inc. (Zurple.com) to be a founding Zillow® Tech Connect Partner. As part of the partnership, agents that participate with Zillow as a Premier Agent, or simply have a profile with them, in conjunction with Zurple Conversations software should see higher personal engagement from their Zillow contacts and ultimately close more deals.
Said Zurple CEO Robert Schulte: "We know from our data that when an agent sends emails to real estate leads or speaks to them while referencing the specific behavior of the lead, response rates go way up, and conversations ensue. Conversations develop relationships that culminate in closed transactions."
In addition to Zurple's Conversations-automation platform, agents who use Zillow will have the benefit of the rest of Zurple's suite. Zurple alerts tell the Realtor who to contact, when to contact them, and what to say. Alerts are based on Zurple analyzing a lead's online behavior and drawing conclusions from it for the Realtor.
Said Zurple co-founder Ryan Owen: "Zurple alerts the agent when a lead's behavioral profile suggests it is an opportune time for the agent to engage. Sometimes agents have the time and inclination to do it. When they don't, our Conversation Automation kicks-in to ensure opportunities are not missed."
Other Zurple tools that will be available to agents using Zillow include the ability to mass email groups of leads, and lead routing and management functions. Zurple also manages Google pay-per-click campaigns on a cost plus 10% basis for those agents seeking to obtain additional leads through pay-per-click. Many of the top 100 agents in the United States generate leads from pay-per-click campaigns.
Zurple was recently recognized as #33 on Inc.'s fastest growing companies list, with three-year growth over 7,000%. The partnership with Zillow should boost that growth. Zillow has more than 38,000 Premier Agents.
About Zurple, Inc.
Zurple is effectively using data analytics to drive deals for Realtors. Zurple software analyzes a real estate lead's click stream behavior and uses insights gained from it to start conversations between the real estate lead and Realtor. Zurple software also identifies which real estate leads are transaction-ready and informs the Realtor so that the Realtor can quickly act.
Zillow is a registered trademark of Zillow, Inc.