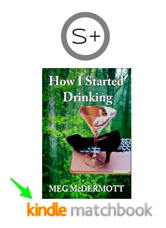 Buy the paper copy and get the Kindle for 99 cents!
(PRWEB) November 07, 2013
S+, the publishing imprint for the think-tank synaptIQ+, is promoting its first fiction book using Kindle Matchbook.
There has been an enormous controversy surrounding the publication of digital books because so many people already have purchased the hard copy and feel they are being nickel and dimed by having to also purchase the digital copy. Guy Kawasaki (5,294,125 people have him in G+ circles) just posted about Eugene Wei's Blog. Guy quotes Wei, "Amazon is a killing machine, and you're clueless if you don't realize this."
Wei points out that it is a fallacy that Amazon is a "profitless business model," but, rather, that it is pouring its profits into a juggernaut of growth so that, "Amazon is arming itself to take the contest to higher ground. The retail game is about to become more, not less, punishing."
The Editor-in-Chief of S+'s academic Journal, and the Co-Owner of both synaptIQ+ and the S+ publishing imprint, Meg Tufano, asks, "Isn't this the way books should be sold? If you buy the paper copy, you can also get the digital version for a deep discount? Isn't this the future of publishing?"
Meg Tufano and SynaptIQ+ have picked up the clue: they think this is just what book lovers have been waiting for.