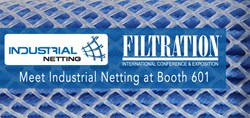 Minneapolis, MN (PRWEB) November 06, 2013
Conwed, the leading plastic netting manufacturer in the world, will have its netting portfolio displayed at FILTRATION 2013 in Chicago, IL (Nov 12-14, 2013) by its key partner, Industrial Netting.
Industrial Netting offers a large selection of plastic netting and mesh tubing for material separation, structural support, and containment. Roll goods can be sheeted, die cut or slit/rewound to meet specific customer requirements. Rigid mesh tubes are precision cut to custom lengths. With one-day service on many items, Industrial Netting has become the premier source for netting and mesh components.
Since 1981, Industrial Netting has been the partner of choice when converting and adding value to Conwed netting products. "As a leading converter, Industrial Netting is committed to listening to its customers' needs by providing customized netting solutions and quick delivery," said Dave Brentz, VP of Sales & Marketing, at Industrial Netting.
Filtration 2013 is a conference and exhibition organized by INDA, the Association of the Nonwoven Fabrics Industry. It is an event with highly-visible exhibiting opportunities for filtration media manufacturers, raw material suppliers and machinery equipment manufacturers from around the world. "Conwed and Industrial Netting thrive on solving product development challenges for our customers. Industrial Netting has exceptional capabilities to customize our netting portfolio for a wide range of filtration applications. We invite attendees to visit their booth #601 at the show, and see their latest innovations," said Mary Liz Cahill, Business Development Manager, at Conwed.
Conwed netting is an essential component in hundreds of industrial and consumer products in many different industries worldwide. From automotive, filtration, medical, hygiene and disposable products to agriculture, apparel and building and construction applications, Conwed plastic netting performs a diverse range of performance capabilities.
About CONWED
Conwed is the leading plastic netting manufacturer in the world. Conwed manufactures extruded, oriented and knitted netting with unique customization capabilities. Headquartered in Minneapolis, Minnesota, Conwed has five manufacturing locations on two continents and a global distribution network.