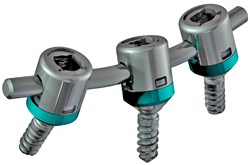 Charlotte, NC (PRWEB) November 07, 2013
Intelligent Implant Systems, LLC, a recognized innovator in the treatment of spine disorders and development of spinal implant technology, announced today that the Marauder™ Cervical-Thoracic Spinal System was cleared by the FDA for sale in the United States. The Marauder™ Spinal System utilizes an advanced locking system that requires no torque or set screws and provides numerous benefits to the surgeon and patient. The design allows easier rod reduction as the screw head will temporarily remain where positioned to ease rod reduction. After rod reduction is complete, the implant is locked into its final position with a locking cap using an elegant, one-handed instrument. Intelligent Implant Systems recently exhibited this product at the NASS show in New Orleans, and the company is expanding the system and adding additional components which utilize the same patent pending technology for locking.
The Cervical-Thoracic Spinal System polyaxial screws are available in diameters of 3.5 and 4.0 mm. In addition, hooks are available, which, like the polyaxial screws, attach to a 3.5 mm rod and use the same torque-less technology for locking.
"We are pleased to announce clearance to market the Marauder™ Cervical-Thoracic system in the U.S.," said Marc Richelsoph, President and CEO of Intelligent Implant Systems. "This addition to our product line expands our product portfolio, and along with planned implant additions, will provide a state-of-the-art system to treat the entire posterior spine. We additionally intend to incorporate this system with our exclusive Active™ Screw system to provide surgeons and patients a superior fixation option."