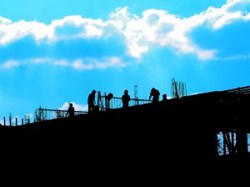 88 percent of fatal falls in Queens and 87 percent in Brooklyn involved Latinos and/or immigrants
New York, NY (PRWEB) November 11, 2013
A report titled "Fatal Inequality," compiled by the Center for Popular Democracy, points out the disproportionately high number of Latino and immigrant construction workers who are killed on the job every year in New York City. According to the Oct. 24 report, between 2003 and 2011, 74 percent of fatal falls in New York City involved Latinos or immigrants. The statistics were compiled based on investigative reports provided by the Occupational Safety and Health Administration (OSHA), which probes workplace accidents that result in injuries and fatalities.
The report also found the following:

88 percent of fatal falls in Queens and 87 percent in Brooklyn involved Latinos and/or immigrants.
86 percent of Latino and/or immigrant workers who were killed as a result of fall-related incidents in New York were working for a non-union employer.
In 2011 focus groups, Latino construction workers reported fearing retaliation as a key deterrent to raising safety concerns at the workplace.
Construction workers who are injured in these types of accidents suffer debilitating injuries, said New York personal injury lawyer Kenneth A. Wilhelm. "Immigrant workers, especially those who are undocumented, face significant challenges when it comes to getting treatment and paying for it."
Wilhelm says his firm has represented and continues to represent many undocumented persons who have been injured as a result of workplace safety violations. "Just because they are immigrants, their rights cannot be denied. If they have been injured due to negligence or workplace safety violations, they deserve to be fairly and fully compensated for their losses."
This is also an important reason why the state must not change its scaffold law, which currently holds contractors and building owners liable for workers' injuries. "If the scaffold law is changed, the burden will shift to the injured workers who are already struggling physically, emotionally and financially. Also, there will be little incentive left for construction companies and contractors to provide their employees with safe working conditions."
About the Law Offices of Kenneth A. Wilhelm
The Law Offices of Kenneth A. Wilhelm is a personal injury litigation firm with an unwavering dedication to its clients. With more than 42 years of experience, our firm strives to obtain the best compensation for those who have been injured or those who have lost a loved one due to an accident or by someone else's negligence. We handle cases dealing with personal injury, medical malpractice, wrongful death, workers' compensation, dental malpractice, motor vehicle accidents, pedestrian accidents, rape, paralysis, comas, seizures, false arrest, lead poisoning, trips and slips and falls, falls on sidewalks or stairs, elevator accidents, construction accidents, Erb's palsy, cerebral palsy, brain damage, blindness, hearing loss, dog bite cases, fire and smoke inhalation accidents, bicycle accidents, falls from windows or scaffolds, and many other types of accidents and injuries.
Please contact us TOLL FREE 24 hours a day, 7 days a week at 1-800-WORK-4-YOU (1-800-967-5496). WE CAN EVEN COME TO YOU. There is no attorneys' fee unless we recover money for you. We can also help with personal injury cases in New Jersey, Connecticut, Pennsylvania, or Florida. If you have been seriously injured in any of the 50 U.S. states, please call us and we will try to help you with your case.
Other TOLL FREE phone numbers for us are:
1-800-RADIO-LAW, 1-888-WYPADEK, OR 1-800-LAS-LEYES
The Law Offices of Kenneth A. Wilhelm
445 Park Ave, 9th Floor
New York, NY 10022
(212) 545-7373
Please visit us at: http://www.WORK4YOULAW.com