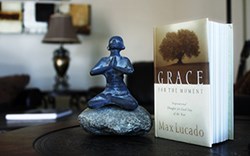 The workshop will help remind the recovery community to appreciate the importance that emotional and spiritual development play in daily sober life.
Lancaster, CA (PRWEB) November 06, 2013
Cycles of Change Recovery Services is honored to announce its sponsorship of the upcoming workshop based on Emotional and Spiritual Sobriety. This event, which is scheduled for November 16, 2013, will bring together the recovery community to share information and inspiration on living a successful recovery life style.
"We are pleased to sponsor the workshop because it runs parallel to our belief in the mind, body, and spirit balance that we teach at our program," said Joe Hunter, Founder and CEO of Cycles of Change. "The two excellent speakers who will be joining us have both worked in the recovery community for a long time."
During the daylong Emotional and Spiritual Sobriety workshop, Dr. Allen Berger and Herb Kaigan will emphasize the importance of staying clean and sober through developing and maintaining healthy relationships. Their discussions will guide participants through the three stages of recovery: physical sobriety (getting clean and sober), emotional sobriety (staying clean and sober), and spiritual sobriety (living clean and sober).
Clinical Psychologist Allen Berger will focus on Bill Wilson's 1956 letter written to help a depressed friend in which he discusses issues of emotional dependency and self-esteem. Dr. Berger is a nationally recognized speaker and educator in the areas of relationship, family and group therapy, counseling techniques, and intervention. He has authored several books which are available on his website.
Spiritual Director Herb Kaigan will share his views on "Our Way of Life", - the path of improving our consciousness with self, others, and OTHER. Sober since 1984, Mr. Kaigan experienced a profound spiritual awakening after working the 12 steps and has been involved in carrying the AA message through sponsorship, facilitating workshops, and leading retreats. He has authored "Twelve-step Guide to Using the Alcoholics Anonymous Big Book" as well as "Twelve Steps to a Spiritual Awakening".
CEO Joe Hunter also says, "The workshop will help remind the recovery community to appreciate the importance that emotional and spiritual development play in daily sober life."