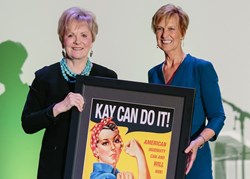 Fort Worth, Texas (PRWEB) November 05, 2013
In a keynote address Saturday night at Fort Worth's Cendera Center, Congresswoman Kay Granger celebrated the 50th Anniversary of one of Fort Worth's longest-standing businesses, R&D and manufacturing firm WilliamsRDM.
Granger called WilliamsRDM "…the kind of small business that is the heart and soul of American free enterprise."
"Women like Della Williams led the way in the traditionally male-dominated field of engineering. Today, the number of women holding senior leadership roles among top-tier defense-technology firms is almost 50%," Granger said. "What Marillyn Hewson of Lockheed Martin, Phebe Novakovic of General Dynamics, Linda Hudson of BAE Systems, and Della Williams of WilliamsRDM all hold in common is exceptional grit, determination, and perseverance," adding, "These women let their performance do the talking."
After her address, Granger was presented with a framed poster created specifically for the occasions featuring the WWII Rosie the Riveter image, customized with the slogan "Kay Can Do It!"
Several hundred gathered for the celebration to honor founder Della Williams and witness the unveiling of the company's new brand. In addition to Granger's address, videos told the story behind the name change and explained the firm's new tagline: "The difference between can and will!"
The research, development, and manufacturing company enjoys a reputation for consistent quality and on time delivery. Its innovative designs for Lockheed Martin, BAE, and The Boeing Company test weapons and countermeasure systems on key military aircraft, including the F-16, the F-35 fighter, and V-22 Osprey.
Founded in 1963 as Williams Instruments, the name was changed in 1998 to Williams-Pyro thanks to the success of Stovetop Firestop, a kitchen fire-suppression product the company invented and markets. Today, the company that began as a mom and pop outfit employs close to 100 people in its facilities near the heart of downtown Fort Worth.
In addition to defense and fire suppression products, the company also manufactures products for the oil and gas service sector.
CEO Williams, recently named a "Great Women of Texas" by the Fort Worth business press, is a familiar face on Capitol Hill known for her testimony before congress and advocacy on behalf of small business.
Said Williams, "I'm looking forward to the next 50!"
About WilliamsRDM
For fifty years WilliamsRDM has been an example of ingenuity and can-do spirit in the heart of Fort Worth, Texas. We believe in American exceptionalism because we walk that walk every day. We've proven you don't have to be big to do big things, and we'd challenge you to find any other company our size with the engineering and manufacturing capabilities we field under one roof. The hundreds of innovative products we've developed and manufactured for the likes of Lockheed Martin, Boeing, BAE Systems, and Halliburton say a lot about our competence in design innovation and high-complexity, precision manufacturing for defense, energy, and fire suppression. When others in our business weren't willing to assume the risk, we have put our money where our mouth is, self-funding development of proof-of-concept prototypes. It's earned us the reputation that we've adopted as our new tagline: [WilliamsRDM is] The difference between can and will!
Visit us on the Web at http://www.williamsrdm.com.