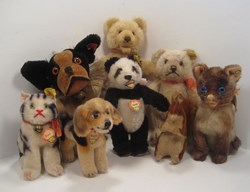 Rebekah Kaufman is among so many serious collectors who turn their hobby into a full time job.
Houston, TX (PRWEB) November 06, 2013
Rebekah Kaufman is a third generation collector of Steiff brand toys and the featured guest on The Collectors Show for the week of November 4, 2013. Listeners will learn much from her including some little known facts about the benefits of collecting Steiff.
Fun Facts About Steiff
For example, did you know that it is O.K. to take a stuffed toy to a job interview, or that the presence of a "teddy bear" in an office setting will reduce stress? More seriously, Rebekah tells listeners about the history of Steiff and how she works with collectors or their heirs. She also describes the tremendous interest in Steiff for their new product offerings and for collecting items made years, decades or even during the last two centuries.
From Collectors to Professional
Ms. Kaufman's personal collection of Steiff animals numbers north of 800 and focuses on examples from 1905 onward, un-cataloged rarities, and Studio (life-sized) items. Her German grandmother kindled her love for the brand over four decades ago, and today she is the proud steward of many of her grandmother's Steiff treasures. Like many guests on the Collectors Show, Rebekah Kaufman took her interest as a collector to the next level making it her career! She consults for the company as one of two official North American archivists, where she leads collector's events and identifies and values vintage Steiff treasures on behalf of the company. You can reach her at: http://mysteifflife.blogspot.com/p/blog-page.html.
About The Collectors Show
With host Harold Nicoll, The Collectors Show can be heard on Web Talk Radio (http://www.webtalkradio.net) and features collectors of all types. No matter what your interest, collecting is a pastime enjoyed by hundreds of millions of people. Collecting, whether buying, selling or hunting is an industry all by itself and helps to drive all types of commerce. Listen every week for more insights on collections, collectibles and collectors. To visit the show web site, go to http://www.collectorsshow.net for all the latest from the world of collecting.