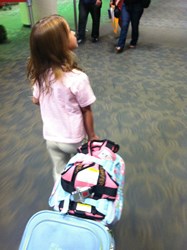 I laughed quite a bit this vacation knowing I had two car seats in my carry-on.
Chandler, AZ (PRWEB) November 06, 2013
The holidays are around the corner. It's time for traveling to visit family. Now there is a safe, easy and legal alternative to traveling with bulky, heavy car seats. The RideSafer® Travel Vest is a lightweight, easy to pack and easy to use child restraint. Plus, parents can rest assured their children will ride safely once the family reaches their destination.
"I just went on vacation with my two kids ages four and six. We've tried renting, and we've certainly tried carrying two seats in the past. I laughed quite a bit this vacation knowing I had two car seats in my carry-on," said William Sterling of Denver. "What a difference. Really took the worry about what to do about seats for the kiddos and saved my back to boot."
Car seats are notoriously cumbersome, difficult to install and rarely used correctly. Given that 84% car seats are installed or used incorrectly by parents, you can imagine grandparents may feel nervous about using them, especially considering their unfamiliarity with child restraints and possible physical limitations. The Ride Safer® Travel Vest is so easy and intuitive, grandparents can feel comfortable taking the kids on an outing knowing the children will be safely and correctly restrained.
"I purchased RideSafer car seats for our grandchildren. They are really easy to use and convenient to take with us on vacation. They are small enough to fit in our suitcase, and they are easily fitted into any rental car," said Judith Monaco of Illinois.
The RideSafer® can be worn by children from 3 years old and 30 pounds up to 80 pounds (usually between 8 and 12 years of age). The vest meets or exceeds Federal Motor Vehicle Safety Standards (FMVSS 213). Dynamic crash tests have proven that the multi‐layer energy absorbent foams and polyethylene laminates in the front panels of the RideSafer® Travel Vest coupled with the tri‐layer force absorbing tether clip, which stretches in an impact, reduces the crash forces transferred to the child's body by as much as 50 percent. The shoulder belt guide is specially designed to bend during a crash so that it adds to the reduction of forces to the torso and further absorbs the energies during the crash.
While a traditional booster seat boosts a child up to make the child fit the vehicle's seat belt, the RideSafer® positions the seat belt down to correctly fit the child, allowing the child to remain in the vehicle seat. Sitting in the vehicle seat is not only more comfortable for the child than using a hard plastic booster but it also is safer. It has been found that children sitting in the vehicle seat have a lower center of mass which reduces their head excursion in the event of a crash.
The RideSafer® Travel Vest is available in two different sizes and two versions. The small size is recommended for children 30‐60 pounds and the large size is for children weighing 50‐80 pounds. Both versions can be used with a lap and standard shoulder seat belt system and version number two also can be used with a lap‐only belt and tether. Due to its compact design, it allows ample room for seating 3‐across in back seat of a smaller car.
The vest has been manufactured by Safe Traffic Systems, Inc. since 2004. Safe Ride 4 Kids is the main distributor and online retailer of the RideSafer® Travel Vests.
For more information on RideSafer® Travel Vests, visit SafeRide4Kids.com or watch our video on YouTube.