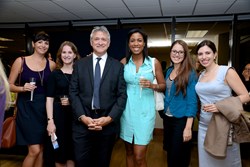 Miami, FL (PRWEB) November 06, 2013
Close to 200 people recently attended the We Are Miami fundraiser for the Miami Bayside Foundation, an organization committed to the advancement of the City of Miami through the support of minority businesses and education.
In the last three years the Foundation has awarded twenty-two loans totaling more than $700,000 to City of Miami minority-owned businesses, creating more than 100 jobs. Additionally, 225 scholarships were awarded to City of Miami students at Miami-Dade College, Florida International University, and Florida Memorial University. They also made two multi-year gifts to organizations working with City of Miami Public High School students, Breakthrough Miami and the Network for Teaching Entrepreneurship. This year the Foundation endowed the first ever scholarship program at FIU's MBA Program. And finally, this academic year, the Foundation will launch a scholarship program at every Senior High School in the City of Miami.
The event took place at Florida International University's Downtown Brickell campus. Nathan Kurland, Chair of the Foundation, welcomed the crowd followed by an address by the President of Florida International University, Dr. Mark Rosenberg. Jieyi Wu, scholarship recipient from Miami Dade College, spoke thanking the Foundation for the financial support. Many of the Foundation's 2013 student scholarship recipients from Miami Dade College, Florida International University and Florida Memorial University were present.
Darnell Henderson, President of H.I.M.-istry and loan recipient, addressed the crowd to thank those who contribute to the mission of the Foundation. Loan recipients were there showcasing their products and services and demonstrating the positive effects of the loan on their business. Salomao Soares, owner of S & S Five Star Foods, a bakery in the City of Miami, and a Miami Bayside Foundation loan recipient commented, "The Miami Bayside Foundation helped us tremendously; enabling us to continue to build our business and therefore achieve our own American dream!"
Pamela Weller, Vice-Vhair of the Miami Bayside Foundation and Senior General Manager of Bayside Marketplace/General Growth Properties, who has been the Foundation's primary funder, thanked the sponsors and partners: Coastal Tishman-Presenting Sponsor, Fabricant Morton & Company PA, Global Investments Realty, Florida International College of Business, Greater Miami Convention & Visitors Bureau, Total Bank, Therapy IV, Panther Coffee, Bols Genever, Bunnie Cakes, Samuel Adams, Florida International University, the City of Miami, Florida Memorial University, Miami Dade College, and Score Miami-Dade.
For more information on the Miami Bayside Foundation, please call (305) 379-7070 or e-mail info(at)miamibaysidefoundation(dot)org.