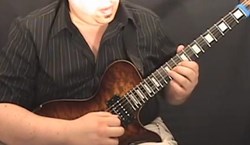 (PRWEB) November 05, 2013
In this guitar lesson, now available on YouTube.com, Silvio Gazquez teaches a classic lick from the guitar solo from "The Sultans of Swing" from Mark Knopfler's band Dire Straits. TAB's for this lesson are available at GuitarControl.com.
A "lick" is a sequence of notes from a scale that are used in a section of a solo, by using an array of techniques such as bends, slides, and hammer-on/pull-offs.
In this lead guitar lesson, Silvio demonstrates one of the most recognizable and coveted guitar licks of all time. The lick is based in D minor pentatonic first position and starts off by bending the second note on the third string and following with baring the first notes on the first and second strings (this is a very common blues lick). Then it is followed by hammer-on and pull-offs on strings one, two, three, and four and ends with a resolving note with sweet vibrato on the 12th fret of the third string.
Mark Knopfler is a native of Scotland and most known for his work in Dire Straits that he formed with his brother in 1977. Knopfler ranked 27th on Rolling Stones list of "Top 100 Guitarists of all time" and has sold over 120 million records to date. In addition to his work in Dire Straits Knopfler has recorded solo albums and collaborated with artists such as Sting, Van Morrison, James Taylor, and Tina Turner to name a few and has composed for movie scores such as The Princess Bride.
Silvio Gazquez is a native of Argentina and began studying guitar at the age of 14. At age 18 Silvio moved to La Plata to study classical guitar at Bellas Artes University. After three years Silvio left to pursue the electric guitar on his own. In 2008 Gazquez was chosen as a finalist for the Guitar Idol contest, but was not able to make the trip, but was chosen to participate on the Guitar Idol compilation CD. Silvio's instructional DVD "Virtuoso Guitar Secrets" is available through GuitarControl.com.
About GuitarControl.com
GuitarControl.com is the leader in modern guitar instruction. It's packed with recourses including articles, video lessons, and the best videos in the business for the beginner to the advanced guitar student taught by the best instructors out there. Weather you are into the blues, rock, jazz, metal, folk, or anything in between, they have you covered.