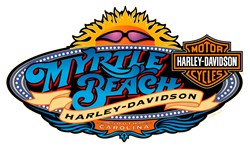 Myrtle Beach Harley-Davidson will kick off Military Appreciation Month with a Quilts of Valor Presentation this Friday. Plans for the month include a Marine Birthday Party, November 10th and a banner on display for locals to sign all month.
Myrtle Beach, SC (PRWEB) November 06, 2013
Myrtle Beach Harley-Davidson will host a Quilts of Valor presentation this Friday, November 8th, at 1pm at the main dealership located south of the Myrtle Beach State Park on Hwy 17 Business (4710 HWY 17 S).
The mission of the Quilts of Valor Foundation is to cover all combat service members and veterans touched by war with comforting and healing Quilts of Valor. During the presentation nine (9) veterans from around the area will receive a Quilt of Valor, making this the largest group presentation the Myrtle Beach chapter has hosted to date.
"We are extremely excited for this opportunity to create a special presentation for this group of veterans," explained Quilts of Valor volunteer, Joan Wobbleton. "Demand for our quilts has risen since receiving national attention on the NBC Nightly News with Brian Williams and this event helps us not only fulfill our mission but to also spread the word of our services on a local level."
This event also serves as a kick off for Military Appreciation Month which will be celebrated throughout November at Harley-Davidson Dealerships across the nation. Locally Myrtle Beach Harley-Davidson will host a Marine Birthday Celebration this Sunday, November 10th from 11am- 4pm with cake and t-shirt giveaways (while supplies last).
A large banner is also on display in the store for the public to sign and show their support all month, participants will receive a commemorative sticker and the banner will be donated to a local veterans group.
Myrtle Beach Harley-Davidson is your neighborhood Harley-Davidson® dealership, offering four convenient locations with a wide selection of New and Used motorcycles, Authorized Service and Genuine Harley-Davidson® Motor Parts, Motor Accessories, Screamin' Eagle® Performance Parts and MotorClothes® merchandise. In addition, the dealership plays host to several charity events throughout the year as well as serves as a sponsor of local events that encourage safe and fun riding for all motorcyclists. As an advocate of safe riding, Myrtle Beach Harley-Davidson also offers monthly Rider's Edge training courses.
Press Interviews: Media interviews with Quilts of Valor volunteers and event organizers may be scheduled leading up to the event and immediately following the presentation on November 8th. Lunch will be served for attendees.