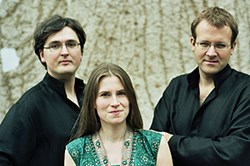 Sheer unbelievable virtuosity.
Carmel, California (PRWEB) November 07, 2013
"A sigh went skating on nocturnal ice." The poetry of Christian Morgenstern is filled with music and it seems apt that this talented trio from Essen, Germany, chose to celebrate his lyrical, philosophical, and often playful work by naming themselves after the German poet more than 90 years after his death.
The Morgenstern Trio had already made a name for itself in concert halls across their native Germany when they were nominated for the European Concert Hall Organisation (ECHO) "Rising Stars" series. They went on to debut in leading concert halls across Europe during the 2009/2010 season, including Paris, Vienna, Amsterdam, Cologne, Brussels, Birmingham, Stockholm, and more.
Chamber Music Monterey Bay audiences were introduced to the trio in the 2011/12 as winners of the prestigious Kalichstein-Laredo-Robinson International Trio Award and their subsequent North American tour. Their stunning debut was met with unbridled audience enthusiasm and led to their highly anticipated upcoming return visit to Sunset Center on November 15th.
On the November program, the second of the five-concert season presented by Chamber Music Monterey Bay, the trio will perform Ravel's Piano Trio in A minor, considered by many to be a technical masterpiece LISTEN, Lili Boulanger's "D'un matin de printemps", Haydn's Piano Trio Hob XV:26 in F-sharp minor, and Mendelssohn's Piano Trio in C Minor, Op. 66. "We are thrilled to be bringing back the Morgenstern for their second appearance on our series," says CMMB's Executive Director Dana Werdmuller. "Their virtuosity is simply awe-inspiring and the excitement being generated by their return visit is palatable among our audience members who attended their debut in 2011."
The critics share that enthusiasm: "The listener heard everything desirable in a chamber music concert: rhythm, precision, balance in sound and perfect intonation. Above all an organic unity in interpretation. After the last note faded away, the hall was suffocating by silence, as if the audience had to solve a spell before breaking into an orgy of applause." -Muenchner Merkur, Germany
More information can be found here.
What: Morgenstern Trio performance
When: Friday, November 15, 2013, 8:00 PM
Where: Sunset Center, Carmel
Tickets: 831-625-2212 or http://www.chambermusicmontereybay.org
Cost: $31-46
Special Rates: Active Military & Adult Students, $15 any seat
Kids Up Front & Free! (accompanying adults pay just $25)