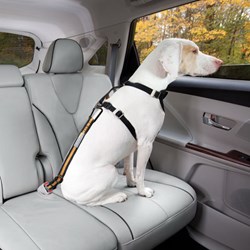 Buckling up one's dog shouldn't be any different than one's child or oneself.
Delray Beach, FL (PRWEB) November 07, 2013
Furry Travelers announced today that they will be offering up to 50% discounts on all pet safety harnesses through the end of the year in an attempt to significantly increase the number of pet owners using dog safety harnesses.
"We are concerned about the number of dogs riding in cars unrestrained," Nancy Cribb, owner of FurryTravelers.com said. "Speaking to pet owners, we find that the main reasons owners don't buckle up their pet is either inconvenience or price. I hear stories of dogs jumping around the car or hanging out of the windows and I cringe. Drivers don't need any more distractions on the road than there are already. It is so unsafe for the driver, passengers, and of course the dog(s)."
Surveys have been performed by AAA and Bark BuckleUp that show an estimated 83% - 90% of dog owners do not use any type of restraint (i.e. crate or pet safety harness) while traveling by car. Over 1/3 of those people admitted to being distracted at some point by a dog climbing into their lap when driving. An excited dog can drastically increase the driver's distraction by jumping around the car or climbing onto the driver's lap.
Many states have already passed laws enforcing pet restraints and the numbers are growing:
New Jersey law forbids dogs from hanging out of windows and riding in the beds of pickup trucks and motorists are required to properly restrain their pets, which means they need to be buckled up with restraints specifically designed for pets, or safely stowed in a pet crate. Fines range from $250 - $1,000 and drivers could potentially face charges under animal cruelty laws.
In Arizona, Connecticut and Maine, law enforcement officers can charge motorists with distracted-driving if they are observed driving with their pets in their laps.
Rhode Island has proposed legislation and Hawaii forbids pets riding in the laps of drivers.
"Some of us remember the implementation of seat belt laws and the requirements of car seats for babies and children," Cribb stated. "Like any habit, it takes the act of repeating the action several times before it becomes routine. Buckling up one's dog shouldn't be any different than one's child or oneself."
Not all safety harnesses have been crash tested, however it is Furry Travelers' opinion that a dog safety harness, whether or not it is crash tested, is better than no safety harness.
The cost of dog safety harnesses start as low as $11.99 and go as high as $89.99 for the most recently crash tested Sleepypod Clikit dog safety harness.
"Furry Travelers hopes that offering this discount on safety harnesses will result in many more dogs will traveling safely and securely this holiday season," Cribb said. "By offering a wide selection of style, convenience and price, there should be a safety harness that works for every dog owner."
About Furry Travelers
Furry Travelers, Inc.® is a family owned and operated company committed to providing innovative pet accessories that make traveling with pets safe and convenient. Owner, Nancy Cribb is the inventor of the To Go Bowl travel bowl for pets.