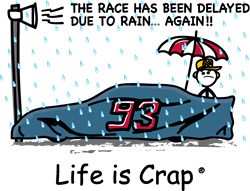 Without NASCAR ... Life is Crap
Manchester, Vermont (PRWEB) November 06, 2013
Paul Wheeler aka "Wheels", Partner at Life is Crap announces, "If you're not terribly familiar with NASCAR, you might think that the racing season never ends. After all, NASCAR is all over the airwaves on Saturdays and Sundays, not to mention throughout the week on ESPN and the SPEED network." Paul continues to spin, "To most people, NASCAR racing may seem like a perpetual sport with no finish line in sight. On the other hand, if you are a NASCAR fan, the season goes way too fast!"
Actually, NASCAR does have a defined season, granted a long one. There are 38 races spanning 10 months. The 2013 NASCAR Sprint Cup Series season is the 65th season of professional stock car racing in the United States. The season began on February 16, 2013 at Daytona International Speedway, with the Sprint Unlimited … and followed by the Daytona 500, the Super Bowl of NASCAR, on February 24. The season will officially end with the Ford EcoBoost 400 at Homestead-Miami Speedway on November 17.
And you thought Major League Baseball (MLB) had a long season. Baseball season is only seven months long, but sometimes feels like it's 12 months long!
Since the team at Life is Crap can't bear to see the checkered flag drop, everything is being done to extend the race season by offering a special collection of NASCAR related Life is Crap T-shirt expressions. These shirts are guaranteed to keep you laughing while the drivers are all re-charging their batteries, changing tires, switching sponsors and spending their hard earned millions on new mansions and faster cars!
Jimmie Johnson is currently the Sprint Cup point leader with 2,342 points, 6 wins and $8,670,000 in prize money! That'll buy him a few crappy shirts!
About Life is Crap®
Life is Crap® is a humor based apparel company, with a focus on tees, hoodies, and gift items. Our brand focuses on crappy situations and pokes fun at the humor within those situations. At Life is Crap® we believe that the universal cure to crappy situations is laughter. We believe that poking a little fun at ourselves, and the world, is the best way to get through those occasional lousy moments. Life is Crap® is the flagship brand of Offsides Branding & Licensing. For more information visit lifeiscrap.com or offsidesbranding.com.