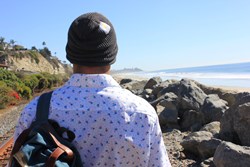 Every part of the button down is environmentally conscious.
San Clemente, CA (PRWEB) November 06, 2013
Way Wear started as just a graphic T-shirt company about a year and a half ago. Since then, the 22 year old owner and designer Logan Welbaum, has created stylish shorts, hats, wallets, and now button downs.
The perfect design took months to create. Every thread was calculated to make it look simple, yet sophisticated. The most unique aspect of the design is the fact that it tapers in ever so slightly. This gives the button down a timeless appeal. If a company wants to change the industry using different materials, it has to make sure their products have a superior fit.
The fabric used on the Floral button down on the image on the right is 70% organic cotton and 30% bamboo fiber. It takes months to create this luxury blend of fabric. It is lightweight yet, durable. It takes even more time to create the vintage print on the fabric. The print almost looks like a grandma's dining table cloth and that is what Logan Welbaum was going for. The vintage look is back and the all over floral print completes the entirety of the button down. It is easy to tell that the buttons used also follow the vintage theme. The buttons were made in the USA using recycled plastic.
Every part of the button down is environmentally conscious from the buttons, to the tags, to the materials, and even the production. Way Wear strives to make organic clothing the only clothing. If you care about the environment and care about style, Way Wear is right up your alley.