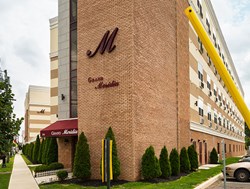 Rahway New Jersey has gone through a sort of metamorphosis or renaissance…
Rahway, New Jersey (PRWEB) November 07, 2013
Elias Mallouk Realty Corporation announced today that they purchased Grand Meridia, Rahway, New Jersey. Elias Mallouk Realty Corporation has owned and managed apartment buildings since the late 1930's in New York and New Jersey.
"My great grandfather believed in buying middle income family apartments and providing exceptional service to our tenants. We certainly had the opportunity to deviate from that concept throughout the years, but we have stayed true to my families' traditions," said Jeff Mallouk, one of the partners of EMRC. He added, "We are excited about moving our business into New Jersey as the economic climate of this state is just exceptional.'
When one walks into Grand Meridia it's easy to understand the attraction to the building and it's tenants. "Rahway New Jersey has gone through a sort of metamorphosis or renaissance says building manager," Joe Miko. He added, "The area surrounding our Rahway apartment building is a wonderful combination of heritage, architecture and colorful festivals with sumptuous culinary treats, all imbued in a culture of small-town friendliness. And what's great is we're Just a couple of short blocks to the Rahway train station and only a 38-minute commute to NYC."
The building is comprised of one and two bedroom/den apartments and many units offer two full baths. Each unit has a full dining room and the building supplies free WiFi to it's tenants. There is a video intercom for added security and the rooms are spacious with wall-to-wall carpeting in the bedrooms. Of course there is air conditioning and each unit has individually controlled thermostats. The amenities include in-house laundry facilities, secured private parking with well-lit walkways, stairways and elevator access.
Cats and dogs are welcome for a small additional fee and the local bus and train station is within walking distance of the building. All apartments are cable and DSL ready, too. Miko continued, "Our tenants are already saying that they really enjoy the new management company, to which I reply, 'We aim to please.'"
For more information about Grand Meridia, one can logon on to their new website:
http://www.grandmeridia.com or call Jennifer Genna at (732) 540-8598. The building can also be located on Facebook and Google+.