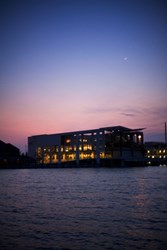 Charleston, SC (PRWEB) November 05, 2013
Sip a festive cocktail and enjoy the Aquarium's animal collection after dark during the Sea Life by Starlight fundraiser at the South Carolina Aquarium, Saturday, December 7, 2013 from 7-10 p.m. This one-of-a-kind evening will feature a laser light show, sustainable seafood by Middleton Place Restaurant, Coast Restaurant & Bar, Oak Steakhouse, and Lana Restaurant, cocktails, live music by High Tide with Bubba Bryant, and a special VIP hour with a fire performer. Guests are invited to participate in a live and silent auction benefiting the Aquarium's conservation and education programs.
Featured auction items include:
-- Three bedroom, fully furnished house rental on Turks and Caicos
-- A 66-foot boat slip at the Charleston Harbor Resort and Marina
-- Four, one-day park hopper passes for Walt Disney World
Tickets for the event are $65, members enjoy $55 tickets. VIP tickets are available for $90 which includes a 6-7 p.m. cocktail reception, silent auction preview and an exclusive terrace view of The Parade of Boats on the Charleston Harbor. To purchase tickets to Sea Life by Starlight, visit scaquarium.org/slbsl. The event is hosted by the Aquarium Alliance, a group of individuals and families with a shared passion for impacting the programs, animals and conservation efforts of the South Carolina Aquarium. Together they aim to protect and understand our natural world while inspiring action for conservation of our freshwater and marine ecosystems.
The Aquarium would like to thank our generous sponsors: The Speedwell Foundation, Bluestein, Johnson & Burke, LLC., CNT Foundations, LLC., Yuppie Puppy Pet Salon, Amanda and Matt Blue, Darlene and Van Fischer, Taylor Agency, Custom Home Sound, and Richard and Shara Star.
For all media inquiries, please contact Kate Dittloff at (843) 579-8660 or kdittloff(at)scaquarium(dot)org
About the South Carolina Aquarium
The South Carolina Aquarium, Charleston's most visited attraction, features thousands of amazing aquatic animals from river otters and sharks to loggerhead turtles in more than 60 exhibits representing the rich biodiversity of South Carolina from the mountains to the sea. Dedicated to promoting education and conservation, the Aquarium also presents fabulous views of Charleston harbor and interactive exhibits and programs for visitors of all ages.
The South Carolina Aquarium, a 501(c)(3) not-for-profit organization and is open Daily from 9 a.m. to 5 p.m. The Aquarium is closed Thanksgiving Day, half day Dec. 24 (open 9 a.m. to 1 p.m.) and Dec. 25. Admission prices are: Toddler's (3 and under) free; Youth (4-12) $14.95; Adults (13+) $24.95. The Aquarium plus the 4-D Theater experience is free for Toddler's, $19.95 for Children, $29.95 for Adults. The 4-D Theater experience only is $6.95 for Children and adults, and free for Members. For more information call 843-720-1990 or visit scaquarium.org. Memberships are available by calling 843-577-FISH.
###