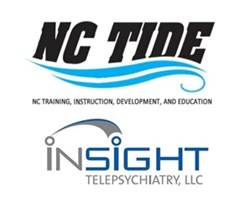 Asheville, NC (PRWEB) November 05, 2013
The North Carolina Training, Instruction, Development, and Education (NC Tide) Fall 2013 Conference is taking place in Asheville, NC. The conference is designed to provide information that the state, local management entities, and providers need to improve performance in all areas and at all levels of mental health, developmental disabilities, and substance abuse services. This year's fall conference features more than 20 exhibitors including experts on software and hardware, document support, insurance, consulting services, and providers of services to consumers.
InSight Telepsychiatry's Executive Director Geoffrey Boyce is in Asheville to give two presentations at the conference: "Telemedicine: The Conduit to Behavioral Health Integration" and "Adopting Telepsychiatry: Cultivating Consumer and Community Buy-In." Both presentations will be co-lead by InSight's Medical Director, Dr. Jim Varrell, via televideo.
"Telemedicine: The Conduit to Behavioral Health Integration" is a presentation on the importance of integrating behavioral and physical care and discusses how telemedicine can be a tool to facilitate connected care models. Behavioral health integration is a relevant topic given initiatives to connect medical and behavioral health care and treat consumers in medical home.
'Adopting Telepsychiatry: Cultivating Consumer and Community Buy-In" is a discussion-based presentation that examines the means of successfully incorporating a telepsychiatry program into a community's existing model of care. The program also offers clinical expertise on how various consumer groups react to telepsychiatry.
Geoffrey Boyce is the Executive Director of Telemedicine at CFG Health Network's InSight Telepsychiatry. Since 2008 Boyce has advocated for the appropriate use and value of telepsychiatry and has developed unique telemedicine programs within areas of greatest need. Boyce is an active participant in telemedicine advocacy, education and reform initiatives, regularly interacting with state and local healthcare regulators and administrators. Boyce frequently presents on the potential of telemedicine and the best practices for establishing new programs.
Dr. James R. Varrell is the founder and Medical Director of the CFG Health Network and InSight Telepsychiatry, LLC. Dr. Varrell is American Board certified in Psychiatry and Neurology, and certified in American Academy of Child and Adolescent Psychiatry with a specialty in autism. Dr. Varrell has been at the forefront of telepsychiatry across the nation and continues to educate the medical community regarding the benefits of telepsychiatry.