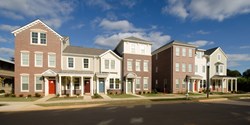 This is MHA's first public-private venture to create affordable housing.
Montgomery, AL (PRWEB) November 06, 2013
The Mayor, community leaders, and federal officials today joined the Montgomery Housing Authority (MHA) and its private sector partner, The Michaels Organization, for a first look at the progress made to date on The Plaza at Centennial Hill, a brand new, $22.7 million mixed-income affordable housing community currently being constructed on the site once occupied by the Victor Tulane Court Public Housing development.
"We are proud to welcome our new and returning residents to this wonderful community and to be leading the revitalization of this historic and important neighborhood," said Evette Hester, Executive Director of the MHA.
Guests at the Open House toured an apartment flat as well as a townhouse-style unit, and were able to visit the Community Center, where programs and services will be offered to residents in the future. Expected to be completely finished and fully leased by December, The Plaza at Centennial Hill has begun leasing and 49 of the 129 apartments occupied.
The Plaza at Centennial Hill is the MHA's first public-private venture, with funding for the development, coming from the housing authority and from the City of Montgomery, as well as equity raised from private sector investors through the sale of federal Low Income Housing Tax Credits. The Plaza serves eligible families earning 60 percent or less of the Area's Median Income as well as public housing residents.
"This neighborhood has a rich history and we are delighted to be a partner in its future by ensuring that families with a variety of incomes have quality affordable housing opportunities," said Milton R. Pratt, Jr., Senior Vice President of The Michaels Development Company.
The community is being professionally managed by Interstate Realty Management Co. Both MDC and IRM are companies of The Michaels Organization, which has been a leader in the affordable housing industry for 40 years.
Local partners in this effort include Stallings and Sons, which is serving as the general contractor, and Architect W. Barry Robinson, who is working with the Architect of Record, Torti Gallas and Partners, and Flower and White Engineering, which is providing civil engineering services.
About MHA:
The Montgomery Housing Authority (MHA) is the largest provider of quality, affordable housing in Montgomery County, Alabama, serving over 4,000 families through its public housing and housing choice voucher programs. Founded in 1939, MHA has attained a reputation for innovation, positioning itself by developing one of the most attractive affordable housing communities in the region. As a leader of affordable housing, MHA strives to also provide one of the most comprehensive resident services programs available. With programs in home ownership, self-sufficiency, education, youth and senior services, MHA is committed to using housing as a platform to help move families towards greater self-reliance and an improved quality of life. The next few years will usher in the expansion of more redevelopment opportunities at various public housing communities. As MHA looks to the future with plans to improve its public housing stock and to assist families become independent, it changed its mission statement to better reflect its goals and aspirations. The new mission of the MHA is: "To create affordable, sustainable housing while improving the quality of life for families and encouraging independence."
About The Michaels Organization:
Michaels Development Company (MDC) and Interstate Realty Management are both independent operating companies of The Michaels Organization, a family of companies dedicated to excellence in affordable, mixed-income, military, and student housing. Serving more than 100,000 residents in 360 communities across 34 states, the District of Columbia, and the U.S. Virgin Islands and with a development portfolio valued in excess of $3 billion, The Michaels Organization is a national leader in the residential real estate industry, with full service capabilities in development, property and asset management, construction, mortgage finance, and tax credit syndication.