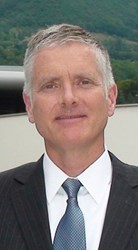 Cranston, Rhode Island USA (PRWEB) November 05, 2013
AIM Solder, a leading global manufacturer of solder assembly materials for the electronics industry, announces AIM's Tim O'Neill is to present "What's on your Rework Bench?: Flux Residue Failure Analysis." The presentation will be held during the SMTA Empire Chapter Technical Sessions, November 7th, 2013 at 11:30 a.m. at the Radisson Hotel Rochester Airport.
Every seasoned SMT process engineer has at least one nightmare story about bad rework chemistry. Whether it's the wrong flux sneaking into the operation, under-processed flux remaining on the board, or improper residue removal; they all risk the same inglorious fate: field failure. While rework operators and process engineers rarely get a glimpse of the long-term damage of inappropriate materials or processes, the Failure Analysis engineers see it all. They report that the vast majority of solder-related issues are on reworked solder joints, and the lion's share of those is due to the rework chemistry. In this presentation O'Neill takes a closer look at best rework practices.
Tim O'Neill has nearly 20 years of experience in the electronics soldering industry, beginning his career in 1994 with EFD and was key in business development of their fine pitch solder paste dispensing technology. With a B.A. from Assumption College and post-graduate studies in education, O'Neill joined AIM in 1997 and has since assisted many clients with assembly challenges, specializing in Pb-Free process development and material selection.
About AIM
Headquartered in Montreal, Canada, AIM Solder is a leading global manufacturer of solder assembly materials with manufacturing, distribution and support facilities located throughout the world. AIM produces advanced solder products such as solder paste, liquid flux, cored wire, bar solder, epoxies, lead-free and halogen-free solder products, preforms, and specialty alloys such as indium and gold for a broad range of industries. A recipient of many prestigious SMT industry awards, AIM is strongly committed to innovative research and development of product and process improvement as well as providing customers with superior technical support, service and training.
To learn more about the products and services offered by AIM or go to http://www.aimsolder.com.
Upcoming Events:
November 12-15, 2013 – Productronica Messe München, Munich, Germany | Hall A2/Booth 540
November 13-14, 2013 – IPC Conference on Solder & Reliability Costa Mesa, CA USA