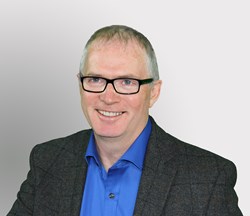 Ottawa, IL (PRWEB) November 07, 2013
B&B Electronics Manufacturing Company's Board of Directors today announced that Sean Harrigan has stepped down as Chief Executive Officer, and the Board has named Jerry O'Gorman, previously the Managing Director of EMEA (Europe, Middle East, and Africa) Operations, as the company's new CEO. A member of B&B Electronics' senior management team since 2006, O'Gorman understands the company's customers, products, and operations, as well as its strategic growth plans. He also played an integral role in the company's recent acquisitions (Quatech in October 2011, Conel in March 2012, IMC Networks in June 2012) which expanded B&B's portfolio of mission-critical network connectivity solutions.
The CEO's office will remain at B&B Electronics' headquarters in Ottawa, IL, and O'Gorman will work from there as he assumes his new responsibilities. The company expects to appoint a new Managing Director for the EMEA operations in the coming weeks.
"The Board has complete confidence that Jerry is the right person to be our next CEO," said Andrew Snyder, Director of Graham Partners, B&B Electronics' owners. "He has been an outstanding leader and has almost doubled our EMEA revenue over his seven years. Plus, Jerry already knows the business and customers so he can step in and be immediately effective."
O'Gorman was instrumental in vetting Czech Republic-based Conel and its portfolio of industrial wireless cellular routers for acquisition last year. He led Conel's integration into B&B, and established a new business development team across the EMEA region to exploit the expanding portfolio of cellular, fiber and Wi-Fi network connectivity solutions available to B&B through its acquisitions. O'Gorman brings over 25 years of experience in business leadership, international sales and marketing from a variety of technology-based industries.
In a related move, the Board appointed Fred Thiel as Executive Chairman of the Board, formalizing Thiel's prior advisory role as Director of B&B Electronics. Serving from B&B's Lake Forest, CA office, Thiel will advise the CEO on key strategic issues including new product development, customer acquisition, and talent management.
Thiel, an expert in M2M, smart systems, and industrial connectivity technology, brings over 20 years' experience in managing software and technology companies for rapid growth. He has served as CEO of Lantronix, a leader in M2M, device networking, and systems management technology. Thiel has been an Operating Partner for Graham Partners since 2007.
Harrigan became CEO at B&B Electronics in March of 2011. He now leaves the company to pursue other professional opportunities.
About B&B Electronics:
Founded in 1981, B&B Electronics Manufacturing Co., Inc. provides mission-critical network connectivity solutions for wireless and wired networks based on Ethernet, serial, wireless and USB communication technologies. The company is known globally for its easy to use, rugged and reliable device networking products, as well as for its knowledgeable technical support, field applications personnel and responsive customer service. B&B Electronics is headquartered at 707 Dayton Road, P.O. Box 1040, Ottawa, IL 61350, 800-346-3119 and at http://www.bb-elec.com on the Internet.
###
Editorial Note: The press release page contains downloadable photographs: http://www.bb-elec.com/About-Us/News/Press-Releases.aspx