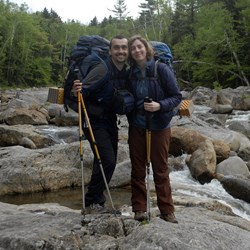 I see this journey as an example and hope it inspires other disabled individuals to pursue their dreams as well, whatever they may be.
Frenchtown, New Jersey (PRWEB) November 08, 2013
Patrick Shannon won't allow a medical condition to keep him from long-distance hiking. Though he experiences epileptic tonic-clonic seizures, Shannon and his wife Sue will raise funds for non-profit World T.E.A.M. Sports by walking New Zealand's newly-opened 3,000-kilometer Te Araroa Trail this winter.
"New Zealand is always a place I've wanted to go," explained Shannon from his New Jersey home. "What is unique about this trail is that it is not really a wilderness trail like most of the long distance hikes in the world today. It makes a point of going through towns in addition to its long stretches of more remote wilderness. What attracts me to that is I also get to explore the culture of New Zealand along with its amazing landscape."
Patrick and Sue will be raising funds benefiting World T.E.A.M. Sports and the non-profit's inclusive outdoor sporting programs for disabled and able-bodied persons. "Having grown up with epilepsy and having seen first-hand the limitations perfectly well-meaning role models put on people with disabilities based on their stigmas of what such an individual is capable of, I wanted to send the message to all individuals and particularly young people, to have the courage to reach beyond those limits," said Shannon. "I see this journey as an example and hope it inspires other disabled individuals to pursue their dreams as well, whatever they may be."
A veteran long-distance hiker, Shannon is aware of precautions epileptics must take. "I count myself as extremely lucky that I always know my seizures are coming on," said Shannon. "This allows me to get into a safe position prior to seizing and thus allows me to safely partake in many activities I may not be able to do otherwise, including long-distance hiking."
With the support of family and friends, the recently married couple will travel to New Zealand's northern island to begin their lengthy trek to the southern tip of the southern island. The Te Araroa Trail, opened to hikers in December 2011, traverses varied terrain from forests to alpine peaks to volcanoes, beaches and cities. Most hikers take from 100 to 150 days to traverse the trail.
"No matter how much planning you do, you are still going to run into situations you are not anticipating," Shannon explains. "Being a big planner myself, this was a challenging lesson to learn, but it is during these times that you rely on your wilderness skills and your ingenuity."
Calling their honeymoon hike "Journey Beyond Limits," Pat and Sue's five month tramp can be followed online through their official website. "We will be updating our journals and galleries every few days as we reach towns that have Wi-Fi," Shannon said.
Considering the hike along the Te Araroa Trail as a journey of a lifetime, Shannon is looking forward to getting out on the trail with his wife. "It is a chance to experience a simpler life where our focus can entirely be on each other and the beautiful world around us. It is also a chance to challenge ourselves as a couple and to hopefully make our bond that much stronger by overcoming these challenges. And of course, along with all these deeper reasons, it is simply a chance to explore an absolutely gorgeous country and to experience the culture New Zealand has to offer."