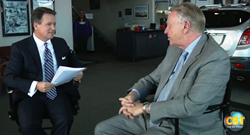 Atlanta, Ga. (PRWEB) November 06, 2013
Jim Fitzpatrick, founder and CEO of CBT News, interviewed the National Automobile Dealers Association chairman, David Westcott at his Burlington, N.C. dealership. Fitzpatrick discussed operations and economic concerns with the chairman.
Approximately 16,000 new car and truck dealers in the United States belong to the NADA. Westcott says, "Our role as an association is to promote, protect and educate our members."
The chairman touched on topics like two-tier pricing, the 54 miles-per-gallon rule, manufacturers requiring new facilities from their dealers and where the NADA stands with the CFPB regulations. He also expressed his full confidence in the chairman-elect, Forrest McConnell III, and the future of NADA.
To view Westcott's exclusive interview with Fitzpatrick, visit CBT News daily for in-depth coverage.
About CBT News:
CBT News (Car Biz Today) is an online news source dedicated to providing the retail automotive industry with news, training and event coverage through various forms of multi-media journalism. CBT News was founded by Jim Fitzpatrick, an automotive industry executive who has been involved in the car business for more than 30 years. The news station is also home to award winning broadcasters, Russell Brown and Bridget Everett, and is headquartered in Atlanta, Ga.