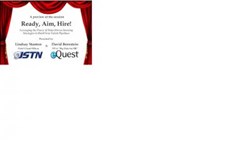 Aurora, Illinois (PRWEB) November 06, 2013
What makes this conference unique, however, is that it runs solely on a crowd-sourced model. Anyone, whether they plan on attending or not, can go to HR.com's website to vote for which sessions they want to be presented. Sessions are broken down into four categories—Innovative Staffing and Sourcing, Contract Workforce and Talent Exchanges, Recruitment Process, Outsourcing, and Quality of Hire—and the top 10 for each category will go on to be included in the event curriculum. Lindsay Stanton, Chief Client Officer at JSTN, and David Bernstein, VP of "Big Data for HR" at eQuest, have submitted their presentation, "Ready, Aim, Hire!" in the Innovative Staffing and Sourcing category. In this exciting session, Stanton and Bernstein will introduce audience members to the most relevant technologies and how they drive Big Data. "By employing certain technology-enhanced sourcing strategies," explains Stanton, "companies can track and measure candidate pools and engagement, allowing them to take a lot of the guesswork out of recruiting."
The session will also include case studies illustrating proven techniques that companies are currently using to drive improved results. For instance, by including video with a "share" function in recruitment campaigns--even something as short as 60 seconds--messaging is able to spread virally, taking it to specialty places on the web that are beyond the recruiter's radar. "We've seen success with this technique over and over again with our clients," says Stanton.
To vote for Stanton and Bernstein's session "Ready, Aim, Hire," click on the following link. The last day to vote is Friday, November 8.
http://www.hr.com/en/live_upcoming_events/talent_acquisition_excellence_forum_2014/talent_acquisition_excellence_sessions/talent-acquisition-excellence-sessions_hnc682ub.html
For more information on HR.com's Talent Acquisition Excellence Forum, go here:
http://www.hr.com/en/live_upcoming_events/talent_acquisition_excellence_forum_2014