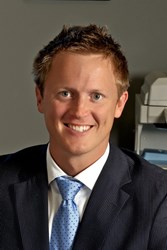 When it comes to employees in this industry, we have the best of the best, and we offer an array of office solutions and services that could quite clearly change the game for our customers.
Springfield, Mo. (PRWEB) November 06, 2013
After opening its doors as a small yet dedicated business two decades ago, Corporate Business Systems (CBS) recently celebrated 20 years of excellent service, innovation and regular growth. Joined by the Springfield Chamber of Commerce at the special ribbon-cutting ceremony held on Sept. 19 to mark the notable achievement, CBS Founder Jim Quesenberry announced some exciting news to the crowd of attendees. After serving as president himself throughout 20 successful years, Quesenberry has decided to entrust the reins to a worthy successor and has promoted the company's long-time Chief Financial Officer (CFO) Tyson Johns to serve as president.
Quesenberry is confident the decision to appoint Johns as the new president will lead to steady growth for CBS. "I chose Tyson to succeed me as president," Quesenberry said, "because I wanted someone who will keep a close eye on the bottom line yet ensure we continue steadily growing while always remaining equipped with the best possible technology and staff to provide the same level of unsurpassed service our customers count on."
Retaining his leadership responsibilities as chief executive and owner, Quesenberry said he envisions his "role will be to track the direction of the plane and let Tyson fly it." The fast-flying plane analogy fits CBS well, as it is growing rather quickly. Though the company's journey started in one small office with Quesenberry and his team facing an uphill climb to success, today they sell and service office equipment, ranging from copiers and printers to electronic imaging devices and networks, for thousands of businesses in a 30,000 square-mile area. This rapidly growing service area currently includes most of southwest Missouri and much of northwest Arkansas.
CBS's operations are also growing in order to meet the needs of its growing customer base, as Johns is well aware. As president, he now oversees an industry-leading company that currently operates out of four strategically located offices: the 20,000 sq. ft. headquarters built in Springfield, Mo. in 2006 as well as offices in Joplin and St. Robert, Mo. and Bentonville, Ark. Johns is committed to continued expansion, and he often cites a favorite quote to inspire employees at all four locations and help them remain prepared to quickly grow: "If you are the best, your customers will demand you get bigger."
Described by Quesenberry as "a very bright, results-oriented, competitive individual," Johns's path to president of CBS has been paved by his own tremendous drive and work ethic. Johns is a certified public accountant (CPA) with a BS in Finance and Accounting and an MS in Business Administration with an Emphasis in Accounting. He earned his undergraduate and graduate degrees at Missouri State University. He has six years professional experience, first working as an auditor at BKD, LLP for two years while earning his CPA designation before joining CBS four years ago. Johns has played an integral role in CBS's continual growth in that time, most recently serving as company CFO for three strong years.
Greater success and the growth that stems from stellar service is exactly what Johns expects for CBS. "With our ability to provide and maintain sophisticated Managed Network Services (MNS), other IT and software solutions, copiers, printers and phones, he stated, "I am convinced we will double in size in five years. True, that's a lofty goal. However, with each of our 62 current employees dedicated to remaining the best in the industry, coupled with the fact that I personally will take any appointment with any client to show how partnering with CBS leads to success, it is also a realistically attainable goal."
It appears that Quesenberry and CBS's rapidly expanding list of clients can expect the company to maintain its level of service and performance with Johns serving as president. As Johns concluded, "CBS has never been better positioned for growth, and I intend to see us reach full potential. When it comes to employees in this industry, we have the best of the best, and we offer an array of office solutions and services that could quite clearly change the game for our customers."
###
For more information about Corporate Business Systems or about President Tyson Johns or Chief Executive and Owner Jim Quesenberry, visit corporatebusinesssystems.com or contact Jay at The Nicholson Agency, Inc. by phone at 417.865.5989 or by email at jay(at)jaynicholson(dot)com.