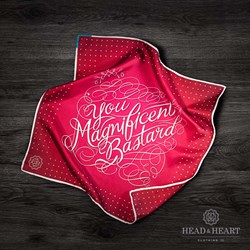 Head and Heart Clothing announces the launch of their first collection of beautifully designed, handcrafted mens pocket squares. The limited edition is now available for Holiday 2013.
Vancouver, BC (PRWEB) November 06, 2013
Head and Heart Clothing Company (H+H) announces the launch of their first limited edition collection of handcrafted men's pocket squares for 2013. The collection, full of wit and charm was inspired by the traditional aesthetic of men's pocket squares but brought to life through the witty sayings and beautifully designed handwritten script and embellishments. The launch collection will be available in a limited quantity of 300 per design on the Head and Heart website beginning November 2013.
"Inspired by my Grandfather, I wanted to create a product that fights against the unthoughtful, throw away culture we have created," said Brady Dahmer, CEO of H+H. "I wanted a company that creates products with meaning and intent, that inspires, makes people laugh and reflect but most of all, makes a small and positive impact on someone's everyday life."
The Head and Heart pocket squares are printed on the finest silk twill with a design that is hand lettered by designer and artist Brady Dahmer. Embellishments and the Head and Heart signature 1 inch contrasting colour corner are added to complete the design. The very labour and time intensive printing process uses the highest quality Italian inks that produce the richest colours and greatest amount of intricate details. The edges of the pocket squares are meticulously hand rolled giving each piece its own unique characteristic and identity. Each pocket square is then marked by hand with a limited edition number. The packaging of the squares are an experience of their own, each with a personal handwritten note by the designer and marked with a corresponding edition number.
Price $75.00, will be available on November 1, 2013 at http://www.headandheartclothing.com until the limited editions runs out.
About Head and Heart Clothing
Head and Heart Clothing was founded in 2013 by designer Brady Dahmer who founded BD/D - Brady Dahmer Design a notable strategy and branding firm in Vancouver BC, Canada for the past 12 years. http://www.bradydahmerdesign.com