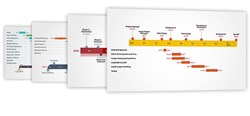 If you can use Microsoft PowerPoint, this add-in is a must have.
Bellevue, WA (PRWEB) November 13, 2013
Office Timeline 2013 was designed to make it fast and simple for any business worker to create an extraordinary timeline, project plan or Gantt chart for high-level presentations to teams, clients, and management.
Business workers and professionals are constantly engaged in projects that must be communicated to their team, customers, and executives. Studies have shown that communications which include visuals are far more effective than presenting a long list of words or merely showing a project schedule. However, most workers do not leverage visuals when presenting a project plan because it has been painful and time consuming to create graphical project presentations and Gantt charts.
Office Timeline 2013 automates the difficult and time consuming tasks that have prevented business workers from effectively communicating their projects. The software makes it simple and quick for professionals to build PowerPoint timelines and Gantt charts that are elegant and powerful, yet easy for audiences to understand.
"Office Timeline is the only project presentation software built right into PowerPoint. This means any business worker can easily use their familiar Microsoft Office platform to quickly build professional project presentations that will stand out in their competitive markets" said Tim Stumbles, co-founder at Office Timeline.
The timeline maker's intelligent wizards intuitively guide users through a simple workflow right inside PowerPoint. Users select a type of timeline or Gantt chart design from Office Timeline's templates, enter their project data or paste from Excel, make stylistic choices, and then click finish. Office Timeline automatically builds the timeline in PowerPoint and it easily manages any future changes, edits, or customizations instantly.
"Rather than business workers tediously building timelines from scratch with Visio or very complicated project management software, Office Timeline 2013 is built into PowerPoint, which means they are up and running in seconds," said Eddy Malik, co-founder of Office Timeline.
The timeline maker's intuitive interface makes it simple to manage all the key Milestones and Tasks of project, and the powerful controls enable users to create elegant and professional presentations.
Office Timeline is being used by over 250,000 professional around the globe to deliver outstanding presentations in Pharmaceuticals, IT, Manufacturing, Product Development, Marketing, Litigation, Program Management, Finance, Research, and Events. You can download Office Timeline 2013 Free Edition from: http://www.OfficeTimeline.com/download
About Office Timeline
Office Timeline (http://www.OfficeTimeline.com) makes the world's most popular timeline maker and schedule presentation tool, natively built for Microsoft PowerPoint. With Office Timeline's free, award winning software, PowerPoint users easily create beautiful, impressive timelines in just a few clicks.