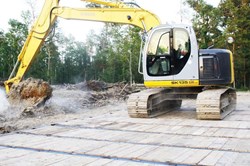 Beaumont, TX (PRWEB) November 12, 2013
With thousands of tractor trailers wreaking havoc on the fragile North Dakota landscape, pipeline matting from Quality Mat Company is providing an eco-friendly alternative for contractors who are working on the Bakken oil field. As eighteen-wheelers roll in and out of the Bakken formation, they disturb the dirt and gravel roads in the area, causing a major dust problem for North Dakota. But dust is only the beginning of the problem.
Roads that once carried less than 50 small vehicles per day are now forced to handle up to 1,000 vehicles. Many of which are trailers, tankers, and other heavy machines. Counties are struggling to perform adequate upkeep on the gravel and dirt roads on which their communities depend.
Quality Mat Company's new, patented design for pipeline matting is being used throughout the Bakken Shale, and is quickly becoming a favorite with contractors and crews alike. These innovative ground protection mats are excellent for keeping treads and tires off of fragile roads or sensitive ground, protecting both the environment and the machinery from damage.
Increasing safety on the job site is one of Quality Mat's strongest commitments, and the new pipeline mats excel in this area as well. Constructed with steel, a full contact treated wood interior, a bottom air wick channel, premium treated pipeline skids, and self-chocking, create a mat chassis that helps keep these mats above ground, while internal treated wood solidifies the mat; increasing its lifespan by 3 to 4 times. Able to bear higher load values than conventional heavy equipment, the pipeline ground protection mats save money on temporary road construction and maintenance.
By continuing to add the newly designed pipeline matting to roads and work sites in the Bakken oil field, Quality Mat Company is working with more contractors to provide quicker, safer access to oil field work areas.
About Quality Mat Company
The Quality Mat Company introduced the interlocking mat in 1974 and has since become an industry leader. Based in Beaumont, Texas, Quality Mat has become one of the largest producers of pipeline matting in the industry.