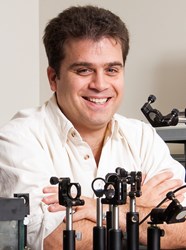 Knowing if a particular chemotherapy is working in as little as 4 weeks helps doctors make better decisions for patient care.
Toronto (PRWEB) November 07, 2013
WaveCheck, a clinical technique to help people with breast cancer rapidly know whether their chemotherapy is working, is among the top 10 Canadian crowdfunding campaigns on both Kickstarter and Indiegogo for the month of October, according to the Globe and Mail's Report on Small Business.
"Breast Cancer Awareness Month's positivity makes it easy to overlook the fact that 60 to 70 per cent of chemotherapy treatments fail," says Dr. Gregory Czarnota, chief of Radiation Oncology at Sunnybrook Health Sciences Centre and co-inventor of WaveCheck with Professor Michael C. Kolios of Ryerson University. "WaveCheck's technology can tell people with breast cancer and their doctors if a particular chemotherapy is working in as little as four weeks."
WaveCheck is the only listed campaign seeking to crowdfund a clinical study rather than directly market a consumer product. Its Indiegogo campaign is unique because:

100% of raised funds will directly go to the research.
Supporters will directly see their donation's impact through semi-annual progress updates provided by the project team while having the ongoing opportunity to ask the research team questions.
"WaveCheck's ultimate goals are to give people a say in their treatment plan, avoid unnecessary side effects from ineffective chemo and help to find the treatment that's right for each person," says Fazila Seker, campaign co-director and business development manager at MaRS Innovation, which leads the campaign. "We've raised over $40,000 from 340 donors worldwide, putting us in excellent position to launch the first partner study site in January 2014."
MaRS Innovation
MaRS Innovation (MI) commercializes the most promising research breakthroughs from 16 of Toronto's and Canada's top universities, institutions and research institutes. MI's portfolio, built through over 1,000 intellectual property disclosures from our members, brings academic discoveries to market through licensing arrangements and start-up companies. MI is supported by the Government of Canada's Networks of Centres of Excellence program, the Government of Ontario through the Ontario Centres of Excellence, our members and by industry partnerships.
To contribute to this campaign, click here.
Media Contact
Elizabeth Monier-Williams
WaveCheck Campaign Co-Director
1-647-260-7850
emonierwilliams(at)marsinnovation(dot)com
@marsinnovation or @wavecheckyellow