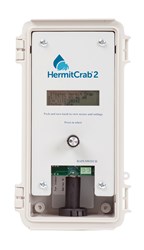 HermitCrab 2 adds the capability to monitor and manage flow by reading flow rates directly from leading brands of flow meters and providing full reporting on learned flow rates.
Novato, CA (PRWEB) November 06, 2013
ETwater, the leader in smart irrigation control and water management solutions, today announced the release of HermitCrab® 2, the second generation of the groundbreaking HermitCrab product that now includes flow monitoring and 3G wireless networks. HermitCrab 2 was formally unveiled at Booth 813 of the Irrigation Association's Irrigation Show and Education Conference, taking place this week at the Austin Convention Center in Austin, TX from November 4-8.
ETwater's HermitCrab, originally introduced in 2010, was an industry first with its capability to upgrade an existing conventional controller to full smart controller status with plug-and-play ease. It plugs into the remote access port of most conventional controllers, then connects wirelessly to ETwater web servers to obtain customized daily watering schedules which are then communicated through the "host" controller, opening and closing valves to provide the exact amount of water needed. Installation time is under 10 minutes, cost is a fraction of the cost of a new installation, and water savings is a documented 20-50% vs. a conventional controller.
In this much-anticipated second generation, HermitCrab 2 has been upgraded with several new features, capabilities, and design elements, including:

Faster 3G Wireless Networks. The upgrade from 2G to 3G wireless networks is a significant enhancement, allowing for better coverage and signal strength by providing more cell tower access points and faster connections. For HermitCrab 2 customers, this means better access to irrigation installations over wireless networks. It also means faster navigation while using QuickDraw® Mobile and ETwater Manager™ from a wireless device such as a tablet or smart phone.
Flow Monitoring Capabilities. HermitCrab 2 adds the capability to monitor and manage flow by reading flow rates directly from leading brands of flow meters and providing full reporting on learned flow rates per controller and per station. This tool allows for even greater water savings: now, HermitCrab 2 can capture real-time data on breaks, leaks, blockages, and other high and low flow events, with automatic shut-off for high flow events such as a main line break.
Single Board Construction. The design team has miniaturized components and consolidated from two printed circuit boards to one for greater durability and reliability.
Faster Remote Software Updates. HermitCrab 2 has the capability for its firmware to be updated remotely with Over The Air Programming (OTAP). This is the first use of this proven technology in the irrigation sector. Newly upgraded 3G wireless networks enhance the speed of ETwater's OTAP capability, thus allowing HermitCrab 2 customers to stay current with the latest features and new functionalities without adding additional equipment or costs.
"Upgrading our products and features with the most current proven technology in order to better serve our customers is a hallmark of ETwater, and in that spirit, we are very happy to announce this new, improved generation of HermitCrab," said Pat McIntyre, CEO, ETwater. "We will continue to innovate with new products and services to expand the possibilities in this industry."
HermitCrab 2 is compatible with over 50 host controllers, with more being added all the time. HermitCrab 2 continues to evolve with new water saving features, such as Rainfall Forecast, providing the ability to suspend irrigation before it rains, and water budgeting tools. In addition to its public unveiling at Booth 813 of the 2013 Irrigation Show, HermitCrab 2 is also a qualified contestant in the show's New Product Contest, where new irrigation products are judged for innovation each year.
About the IA Show
The Irrigation Association is the leading membership organization for irrigation equipment and system manufacturers, dealers, distributors, designers, consultants, contractors and end users. The Irrigation Show is a program of the Irrigation Association, a non-profit 501(c)(6) organization dedicated to promoting efficient irrigation. Each year at the Irrigation Association's Irrigation Show and Education Conference, thousands of contractors, suppliers, manufacturers, and consultants gather to demonstrate new products and technologies, make connections, and educate themselves. To learn more, please visit http://www.irrigation.org or http://www.irrigation.org/irrigationshow.
About ETwater
ETwater is redefining smart irrigation for large scale landscapes with a full range of patented solutions for new installations and irrigation system retrofits. The company's innovative products integrate local weather data with cellular smart controllers to create and implement optimal daily watering schedules, producing water savings of 20-50%. The powerful, web-based ETwaterManagerTM aggregates key data from multiple sites, enables real-time management from any computer, tablet or smart phone, and delivers significant savings of water, time, money, and labor. ETwater is a private company based in Novato, CA, and manufactures in the U.S. For more information, please visit http://www.etwater.com.