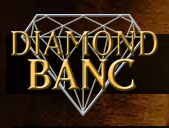 Columbia, MO (PRWEB) November 12, 2013
Diamond Banc, a leader in the diamond and precious metal buying industry, recently announced general rates it will be using to purchase jewelry during the holiday season.
Diamond Banc stated that signed designer pieces earn the best rates. Recently, a Simon G right-hand ring was sold for $1,500. In addition, a 20-carat diamond necklace attracted prices in the region of $11,350, while a pair of 5-carat diamond stud earrings sold for $30,825. Extremely high quality jewelry, such as a recently-sold 7-carat diamond ring, brought its owner $96,262.
Diamond Banc has the expertise and the connections that enables them to offer these high rates for fine jewelry. The company stated that they are pleased to give these excellent rates during the holiday season. Diamond Banc's experts know exactly where to go with every item that is purchased to obtain the best possible value for the piece.
"Our parent company has a 100-year history of building unique relationships with retail stores, wealthy clients and wholesalers. This is how we have the luxury of offering such high rates for jewelry," says Mills Menser, founder of the Diamond Banc. "When someone makes the heart-wrenching decision to sell a piece of quality jewelry, there is not a company on Earth that can compensate them for the sentimental value of the item. This is why it is so important for people to make sure they get the best price possible."
In addition to offering higher rates for the holidays, Diamond Banc started a new program in time for Christmas. Sixty day interest-free loans are now available for all new customers.
Learn more about Diamond Banc's jewelry rates and programs: http://www.diamond-banc.com/the-diamond-banc-difference/.
About Diamond Banc:
Diamond Banc purchases high quality jewelry in exchange short term loans. As well as contacting Diamond Banc online, clients are welcome to visit the mid-Missouri store. Diamond Banc offers discrete loans to clients all over the country.