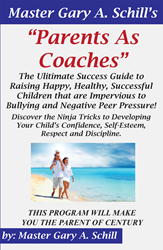 The Ultimate Parenting Success Guide
Cedar Park, TX (PRWEB) November 06, 2013
CNN Reporter Kelly Wallace released an article on Nov. 5th, "Kids Behaving Badly: When Old Rule Discipline No Longer Works." The article was pretty good and provided parents with some helpful hints on how to handle children exhibiting behavioral problems. There were suggestions of "having a talk with them," spanking, and not spanking.
According to Master Schill, children work best when they understand the expectations that are placed upon them by their parents. Yet, most parents do not put expectations on their children until there is an issue. We need to start from the time they are able to crawl as to the expectations we have for their behavior.
Parents need to begin with the end in mind and visualize what type of behavior is expected from their children and implement "Rewards" and Consequences for meeting the expectations. Parents must be consistent with both the rewards and the consequences. Parents need to understand the importance of maintaining control of our emotions. When parents lose control of their emotions, they immediately lose control of the situation and kids as they get older are very keen to the situation and know what buttons to push that will eventually cause parents to lose control and lash out.
Parents also need to take into consideration that parenting styles are learned from our parents. Take a good look at what was effective for us as children and modify the disciplines that were not effective. In addition, parents have a lot more leverage today than our parents had when we were growing up.
One of the tools Master Schill teaches in the "Parents As Coaches" program is the "No-Re-engagement Policy." With this tool, once you give a command or request, regardless of the response, do not engage. Children will either seek negative or positive attention. If you re-engage either one, this is what they learn to respond to. This also gives you an opportunity to center your thoughts and emotions, think of a discipline that fits the infraction. When parents do engage them, first, see if they have completed any of the task you put them on, if yes, then praise them for whatever or all of the task that was completed. Make any corrections that need to be made and then praise them one more time, i.e., "keep up the hard work". Once this task has been completed, with a clear, confident, but controlled voice, then engage the negative behavior exhibited earlier. Provide them with their consequences, ask them if they have any questions, answer them if they are worthy and respectful questions, tell them you love them and then leave the room.
According to Master Schill, a father of 5, parenting is a difficult and demanding job. There are little resources and unfortunately there is no owner's manuals for our children. Parents need to surround their families with professionals that understand how to coach their child and families. The children need to hear the same message from multiple people. It is no different than when great teachers, coaches, mentors and leaders in our lives that would say the same things our parents would say, they just carried more weight. Surround them with great leaders it will make a huge difference for their future.
Master Gary A. Schill is the owner and chief instructor of Peak Performance Martial Arts. He is also the creator of the "Parents as Coaches" program. This program has been featured on ABC, CBS, NBC, FOX, The USA Today and many other local and national publications.
A three time best selling author including his latest book, "The Success Secret" co-authored with Jack Canfield, the co-author from "Chicken Soup for the Soul" series.
To learn more about the secrets of raising happy, healthy children, visit http://www.SuccessfulFamilies.com and start learning the Ninja Parenting Tricks that will ensure your families happiness and success.