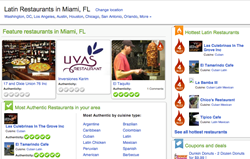 The new Restaurant Guide page expands YaSabe's commitment to provide US Hispanics with the best local, bilingual, and culturally relevant information available online.
Herndon, VA (PRWEB) November 06, 2013
YaSabe, the leading local and mobile search destination catering to U.S. Hispanics, announced today that it has launched specialized guide pages to highlight the most authentic and popular Latin restaurants across the country. YaSabe's new Latin restaurant guide pages are available in cities nation-wide, on web and on mobile.
YaSabe aggregates rich information about relevant local restaurants for users looking online for authentic Latin food. For each city, the new guides provide a curated selection of the very best Latin restaurants based on Authenticity ratings aggregated from multiple sources, including user generated information; and Buzz ratings, which reflects the level of attention each restaurant obtains on various social media sites. On the guide pages, users can also search and browse for restaurants from 17 different Latin cuisine types, and find and discover relevant coupons and discounts that are available nearby.
"The launch of Latin restaurant guides was an important step for YaSabe, where we continue to add unique information that is important for our users," says YaSabe CEO, Zubair Talib. "We want to provide the best online experience for the Hispanic community and deliver local, bilingual, and culturally relevant information for US Hispanics".
About YaSabe
YaSabe is America's largest and fastest growing local search destination for businesses and classifieds information that cater to Hispanic consumers. YaSabe connects millions of users annually to online listings, cultural content and community-sourced information. Offering a fully bilingual interface, including personalized email responses from local experts, YaSabe has grown by 800%, year-over-year. For content publishers and advertisers, YaSabe provides partnership possibilities with syndicated content, revenue opportunities, and access to expanded Hispanic audiences. For more, visit http://www.YaSabe.com.