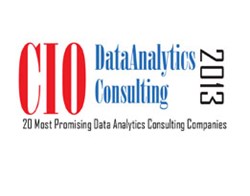 WCI helps client's fill gaps in their ability to support their many business groups and respective departments.
Dallas, TX (PRWEB) November 06, 2013
WCI Consulting, has been guiding clients on 'getting data to decision makers' since 1998. This experience, which is focused in the realm of business intelligence (BI) and data warehousing (DW), has led to a recent selection as one of CIO Review's 20 Most Promising Data Analytics Consulting Companies.
"In the last few months, we have looked at hundreds of data analytics consulting companies and shortlisted the ones who are at the forefront of tackling the real analytics challenges. .... A distinguished panel comprising of CEOs, CIOs, VCs, industry analysts and the editorial board of CIOReview selected the Final 20." - CIO Review
"The company provides solutions that deliver tangible results, tailored to the client's specific needs and objectives; along with the insight, integrity and impact that the customers' expect from their BI partner. WCI Consulting provides services in the areas of data warehousing, data modeling, data migration, data cleansing, and master data management. And it helps client's fill gaps in their ability to support their many business groups and respective departments."- CIO Review
WCI Consulting has engineered specific processes for new projects, upgrades/migrations, and enhancement requests. The company has even established a communication model between their client's resources and WCI called Instant Access, which is a new way of looking at how coaching can be provided to clients on implemented solutions.
WCI also specializes in seeing through convoluted systems to make sense of data in a way that's best for the clients' business needs. One of the reasons CIOReview chose WCI is because when it comes to business intelligence strategy, WCI Consulting believes in simplicity, agility, integration and reliability. By focusing on the leading vendors in data visualization, enterprise business intelligence and data management WCI ensures that the clients' business has access to the right tools to achieve the results that they want.
Marty Carney, Chief Executive Officer at WCI says, "Organizations constantly struggle to get decision enabling analytics from their data in a way that's both affordable and quick enough that their resources aren't being drained on one IT project. We look to address these problems with a concrete approach which will result in the wins that current day companies are looking for. "
WCI Consulting's innovative offerings focus on using technological means to solve complex problems and gain insight into intricate business systems so that their clients can get ahead of the competition. Through years of experience with business intelligence, data visualization and data management systems the company enables businesses to ensure their technological investments produce successful results.
About WCI Consulting:
Headquartered in Dallas, Texas, WCI Consulting focuses on mastering the technology and tools essential to business intelligence and applies the most effective and appropriate solutions to help clients turn data into valuable business information.
About CIO Review
CIO Review is a technology magazine that talks about the enterprise solutions that can redefine the business goals of enterprises tomorrow. Discover more about the Top 20 Most Promising Data Analytics Consulting Companies in 2013: http://www.cioreview.com/magazine/20-Most-Promising-Data-Analytics-Consulting-Companies-ZUMY158135769.html.