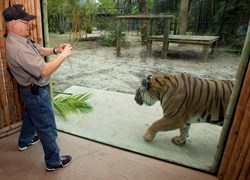 Military personnel can enjoy seeing the living animals that inspired the wild names of military vehicles from raptor jets to cobra helicopters.
Naples, Florida (PRWEB) November 07, 2013
The military has a long history with animals including using animal names like the F-11 Tiger early supersonic aircraft, the F-22 Raptor jet, and the H-1 Cobra helicopter. Many tanks in other countries feature animal names including Britain's FV101 Scorpion, Germany's Leopard series, and South Korea's K2 Black Panther. And South Africa has a fighting vehicle called the Ratel, the local name for the fierce honey badger. This Veterans Day weekend, Naples Zoo is providing complimentary admission to active and prior service military personnel so they can enjoy seeing the living creatures that inspired those wild names.
Naples Zoo's offer for all active military and veterans runs all weekend long and beyond from Friday, November 8, 2013 through Monday, November 11, 2013. Military personnel just need to present current military identification or a membership card in a veteran's organization and matching name photo ID. Plus, adult and child guests in their party will also receive $2 off regular Zoo admission during this time. It's a great time for military and their families to come feed the giraffe herd, see the African honey badgers, and get close to the new cheetahs.
About the Zoo
Naples Zoo at Caribbean Gardens is a 501(c)(3) nonprofit organization cooperating in conservation programs both in and outside the wild for endangered species including a full day of fun presentations and wild cruise through islands of monkeys, lemurs, and apes. Ticket includes admission to both the nationally accredited zoo and historic accredited garden along with shows, exhibits, and the boat ride. ($19.95 adults age 13+/ $12.95 children 3 to 12, under 3 free. Children under the age of 16 must be accompanied by an adult at least 18 years of age). Zoo memberships and discount tickets are also available online at http://www.napleszoo.org. Naples Zoo welcomes guests daily from 9:00 to 5:00 with the last ticket sold at 4:00 and is located at 1590 Goodlette-Frank Road across from the Coastland Center mall in the heart of Naples. To learn more, click http://www.napleszoo.org or call (239) 262-5409.