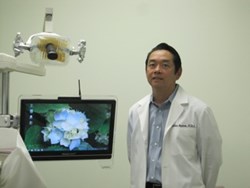 Our website allows patients to learn about out practice without driving to the office.
Glendale, CA (PRWEB) November 12, 2013
Cosmetic dentist, John Asano, DDS, has announced the launch of a new, patient-focused website. Dr. Asano's practice is utilizing the website to educate the community on the importance of oral health. The website includes a links page with informative dental resources as well as a frequently asked questions page to address common concerns on topics ranging from oral hygiene to difficult dental procedures.
"Visiting the website is a quick and easy way for patients to educate themselves about common dental conditions and the latest dental treatments and technologies available," says Dr. Asano.
The website possesses interactive attributes including educational videos, comprehensive information about cosmetic dentistry in Glendale, and a free Smile Analysis feature to help patients make better informed decisions about their oral health. Current and prospective patients now have access to information about office news, helpful dental links, before and after photos of dental procedures, and other informative content when they visit the website. Some of the services offered by Dr. Asano include:
Cosmetic and Restorative Dentistry
Implant Dentistry
Family Dentistry
The website also utilizes extensive search engine optimization techniques to reach patients and local consumers who are searching for relevant information about dental implants in Glendale.
According to Dr. Asano, "We live in an age where traditional word of mouth referrals and paper advertising is becoming less common. Our website allows patients to learn about out practice without driving to the office. The technology available today makes for an easier and more comfortable experience for our patients."
About John Asano, DDS:
Dr. Asano graduated from University of California Los Angeles and Cal State University Los Angeles. He has been practicing dentistry at the Glendale Exchange since the early 1990s. He is a member of the American Dental Association, California Dental Association, San Fernando Valley Dental Association, Glendale Chamber of Commerce, and past president of Academy for Excellence in Dentistry. Dr. Asano established his dental practice to focus on comfortable, cosmetic and general dentistry for the family. For more information on John Asano, DDS, please visit the website at drjohnasano.com.