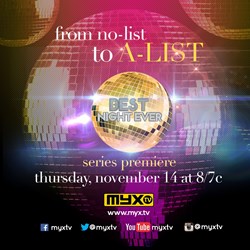 Every woman should live her fairytale – a chance to fulfill hidden desires and enjoy life.
Los Angeles, CA (PRWEB) November 06, 2013
Dreams come true on Myx TV's newest makeover reality series, "Best Night Ever." Hollywood party pro DJ Wednesday and her BFFs, Brandon Rolph and Charles Anthony team up to transform everyday women's lives from ordinary to VIP. Best Night Ever premieres on Myx TV on Thursday, November 14 at 8/7c and will be exclusively available for VOD streaming on Myx TV's website the next day.
Hollywood socialite Wednesday has worked in over 50 venues in Los Angeles and Las Vegas, working with Team Tiesto, Brent Bolthouse from MTV's "The Hills," and the Playboy Mansion. Writer/activist Rolph and event producer/model Anthony bring their fabulous ideas into the mix. Together, the trio works to bring the ladies' dreams to life for one night.
"Every woman should live her fairytale – a chance to fulfill hidden desires and enjoy life," said George Chung, Creator and Executive Producer of Best Night Ever. "I'm proud of this talented cast and crew. They embody what Best Night Ever stands for – having fun while following your dream."
"Best Night Ever has a unique twist to a makeover show – it goes beyond the physical and makes over the spirit," said Miguel Santos, General Manager for Myx TV. "We are committed to developing more original programs on the network while increasing access to our shows on multiple platforms."
This is the show where Hollywood dreams come true. For more information on Best Night Ever and Myx TV's programming, visit http://www.myx.tv.
ABOUT Myx TV®:
Myx TV is the only English language multicultural Asian American entertainment network in the United States. Broadcast in over 12 million households, the network is available in both linear and digital platforms, offering both live and on demand content. Myx TV's award-winning programming includes reality shows, live music performances, game shows, movies, and music videos. To find out more, visit http://www.myx.tv, facebook.com/myxtv, twitter.com/myxtv, instagram.com/myxtv, and youtube.com/myxtv.
Media Asset:
TV Commercial: http://youtu.be/SkZr56Wqq5o
Myx TV Contact:
Tiffany Phung
Marketing Manager
Tiffany.Phung(at)myx(dot)tv