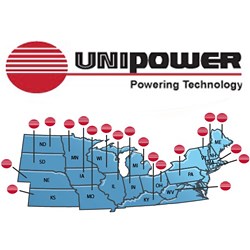 Coral Springs, FL (PRWEB) November 08, 2013
UNIPOWER announces its expanded reach to more than 8,000 customers through a new partnership with Rathsburg Associates Inc. A leading Manufacturer's Representative of electronic components, Rathsburg will represent UNIPOWER across the Northeastern and North-Central states as an outside sales representative. The territory covered in this partnership includes the following states: Connecticut, Delaware, Indiana, Illinois, Iowa, Kansas, Kentucky, Maine, Massachusetts, Michigan, Minnesota, Missouri, Nebraska, New Hampshire, New York (Upstate), New Jersey (Downstate), North Dakota, Ohio, Pennsylvania, Rhode Island, South Dakota, Vermont, West Virginia and Wisconsin.
Rathsburg provides a limited group of the highest quality blue chip suppliers of electronic components and UNIPOWER's products meet this caliber of performance.
Rathsburg's long history of selling power and deep market knowledge will serve UNIPOWER's growth objectives at both OEM's and Channel Partners. Rathsburg's network will help to further establish UNIPOWER's nation-wide product distribution.
Greg Rathsburg, President of Rathsburg Associates, says, "The exciting partnership that we are entering into with UNIPOWER could well turn out to be one of the most successful client engagements in the history of Rathsburg. UNIIPOWER's expanding suite of power solutions will provide great value to many of the 8,000 customers that we currently do business with. And we could not be more delighted with the potential symbiotic rewards of this partnership."
About UNIPOWER
UNIPOWER's latest product offering includes a family of Best-in-Class DC/DC board mounted modules and Network Power products that achieve efficiency levels greater than 96%. With an install base of nearly 300,000 rectifiers and front-ends delivered to world-class companies in North America, South and Central America, Europe, Africa and Asia, the UNIPOWER brand is Powering Technology around the world. Visit the UNIPOWER website at http://www.unipowerco.com
For more information, contact Sales-NorthAmerica(at)unipowerco(dot)com