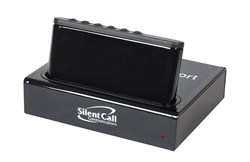 The Vibra-Call 3 body-worn receiver is a must-have for anyone who is Blind or Deaf /Blind.
Waterford, MI (PRWEB) November 05, 2013
Silent Call Communications, a leading manufacturer of tactile and visual communication devices, has released its new Vibra – Call 3 system. This system is a body-worn receiver that alerts people who are Blind or Deaf/Blind when their house is on fire, a telephone or doorbell rings and more.
Through a series of distinctive vibrations the device provides users with important information, which means individuals can be in the garage or working out in the garden and still know what's going on in their home.
"The Vibra-Call 3 body-worn receiver is a must-have for anyone who is Blind or Deaf /"-Lisa DeLeuil, director of sales and marketing for Silent Call Communications. "This device gives users a sense of confidence and independence, allowing them to go about their daily lives without the need to rely heavily on others. We are very pleased to unveil this new product, which could help millions of people around the world."
At night, users can place their receivers into the Docking Port, which charges the receiver battery. An optional bed vibrator, which emits a coded vibration to alert the user to exactly what is taking place in the home, can then be placed under the mattress. The system is totally customizable based on users' needs, as they can choose which alerts they want to include and adjust their settings as their needs change over time.
The device features a sleek, ergonomic design that can be worn comfortably throughout the day and during all different types of physical activity, and it also comes with a handy belt clip pouch for convenient and discreet storage. It is fully compatible with other products in the Signature Series, including the Communicator, Silent Call Watch and the Sidekick II SS.
The Vibra-Call 3 has a range of up to 500 feet, giving users the freedom to roam inside and outside of the house without losing a signal. The device comes with a convenient charging dock, and it continues to issue alerts while charging.
"Silent Call's alerting systems are designed to give people who are deaf , blind, deaf / blind, elderly and individuals suffering from hearing loss a greater sense of ease and confidence around the house," said DeLeuil. "Our New Vibra-Call 3 offers wearers and their loved ones the peace of mind they deserve, ensuring that they won't miss a single important alert or notification."
The device uses Silent Call's Signature Series 418 MHz transmitters, which actively monitor home or office devices in real time. To learn more about the Silent Call Communicator and the other products offered by the company, go to http://www.silentcall.com.
# # #