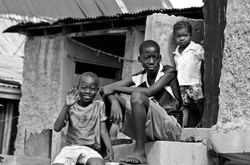 (PRWEB) November 08, 2013
Poverty Resolutions has developed plans for a men's transition center in Haiti. As they have become more involved in Haiti, they now understand a major problem that needs a solution. They have discovered that children are often well cared for by orphanages until they are 18 years of age. However, once these children reach the age of 18, they are forced to leave and must figure out life on their own. Due to these teenagers having very little knowledge on the important aspects of the real world, the transition from orphanage to independent living leaves these young adults stranded in a cycle of poverty that continues throughout generations. This cycle, not only applies to orphans in Haiti, but to teenagers who come from broken homes as well. As these children grow up, they do not have the proper training or education to know how to care for themselves or to support a family of their own. In short, these unprepared children go out and try to raise children or support a family when they have no training or education of how to do so effectively. In turn, they raise children who they are unable to provide for or care for. These young adults eventually end up turning their own kids over to an orphanage because they are without proper training and are unable to support them financially. This cycle will continue to repeat itself until something is done to prevent it.
The vision of Poverty Resolutions' transition center is to teach these young men skills for lifelong success, enable them to learn under an older mentor from the community, and provide means for these men to connect with others. What Poverty Resolutions envisions as a transition center down in Haiti is very similar to the concept of a vocational school here in America. For example, these men would have the opportunity to learn finances, receive business education, and discover trades such as welding, sewing, farming, masonry, and the like. If these young men can learn a variety of trades and skills, they will have a chance to earn a steady income; thus, having means to support their own family. Poverty Resolutions aims to train these men in the transition center anywhere from three to five years, and to provide support for them as they transition into independent living. They would partner with the men in their journey of starting a new career or beginning a business. If the organization provides them funds at the start of their transition into the working world, they would be expected to pay it back over time. After that, any income these young men make is theirs to keep.
By the summer of 2014, Poverty Resolutions hopes to have the first dormitory, bathrooms, and the director's house completed. They hope to have eight students, two leaders, and one director in place at the transition center as well. Poverty Resolutions clearly cannot complete this vision on their own. They need your support, financial donations, and help in all aspects of this process. Please consider allowing the young men and the future generations of Haiti to be educated, equipped, and encouraged in their journey to live successfully and to give back to their country. Donate today towards the future Transition Center or agree to sponsor a specific part of the building process. Visit their website today to see what is needed to complete this center in the next year.
Poverty Resolutions is a 501(c)(3) non-profit organization dedicated to the eradication of poverty around the world. They aim to educate others in order to increase awareness of global poverty and to also inspire people to take action. In Haiti, they provide sustainable solutions to poverty, which empower individuals and organizations to meet the needs of their communities.
Poverty Resolutions is based out of Doylestown, PA.
To learn more, visit: http://www.povertyresolutions.org.