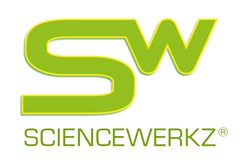 ScienceWerkz apps are "a 21st century response to a 21st century vision."
San Diego, CA (PRWEB) November 06, 2013
San Diego-based Werkz Publishing Inc. and its ScienceWerkz® science education apps were recently honored by The ComputED Gazette, which featured the interactive science eBooks among the winners of its 18th Annual Education Software Review (EDDIE) Awards. The EDDIE Awards recognize leaders in digital education, spotlighting innovative, content-rich programs and websites that help teachers and parents foster educational excellence. Winners represent the best educational technology submitted by digital content publishers worldwide, and are selected based on criteria such as academic content, subject approach, technical merit, management system, and potential for broad classroom use.
ScienceWerkz won the EDDIE Award for Science Apps in the Upper Elementary and Middle School categories. Encompassing more than 30 titles for both computers and tablets, the science eBooks cover key topics in General Science, Life Science/Biology, Earth Science, Chemistry, and Physical Science. Werkz Publishing offers two editions of the science education apps: ScienceWerkz School and ScienceWerkz Home. Educators can use the School version of the science app series to augment their classroom curriculum, while parents can purchase individual science app titles to help their children master challenging subject material.
"We're proud to have won the 2013 EDDIE Award for our science apps, which aim to engage, inspire, and empower learners through research-based instructional design and interactive features," said Dr. Mark Salata, CEO of Werkz Publishing. "Traditional textbooks are going the way of the dinosaur. With our interactive science eBooks, ScienceWerkz leverages innate human qualities such as inquiry and collaboration in a more meaningful and relevant context. No other science education apps are this complete, dynamic, or flexible."
Salata notes that ScienceWerkz offers a distinct advantage over web-based science apps, which require continuous Internet access. "We've applied today's best practices in learning and teaching to create industry-leading digital education products, and we've designed them for offline use. Once our science app titles have been downloaded to a computer or tablet and registered, students have uninterrupted access to them – whether they're at school, at home, or on the go," he explained. "The EDDIE Award we received validates the positive feedback our science eBooks have received from educators, parents, and students worldwide.
ScienceWerkz supporters include Dr. Rodger W. Bybee, father of the 5E instructional model. In describing Werkz Publishing's science education apps, Bybee noted, "You will see an active media approach that leverages emerging communication and collaboration tools, provides learning experiences that transcend the classroom walls, and uses relevancy-based digital tools to drive learning. There it is – a 21st century response to a 21st century vision."
Educators can learn more about the award-winning line of science apps at the upcoming Conference for the Advancement of Science Teaching (CAST), which will be hosted by the Science Teachers Association of Texas (STAT) from November 7-9 at the George R. Brown Convention Center in Houston. ScienceWerkz representatives will be available at the Werkz Publishing booth (#335) in the Exhibit Hall to answer questions and provide demos of the educational technology. Teachers, parents, and students can find more information on the science education apps and request a free trial at http://www.werkzpublishing.com/sciencewerkz/.
About ScienceWerkz®:
ScienceWerkz is a line of award-winning science education apps developed by San Diego-based Werkz Publishing Inc. Founded in 2012, Werkz Publishing aims to lead the digital learning revolution with digital education apps that engage, inspire, and empower students. The company's interactive science eBooks are available for Windows® and Apple® computers as well as iPad® and Android™ tablets, and cover key topics in General Science, Chemistry, Earth Science, Life Science/Biology, and Physical Science. With ScienceWerkz School and Home editions, the subscription-based science apps may be used by educators for classroom learning or by parents and students for self-paced learning at home.