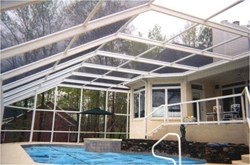 We build to surpass high-wind regulations, even when we are not required to.
MIAMI, FL (PRWEB) November 06, 2013
Installation of swimming pool screen enclosures in Coral Gables, Fla., have helped boost residential sales for Venetian Builders to record levels in 2013, President Chris Noe said.
"With only two months to go in 2013, we've already surpassed our 2012 sales volume in Coral Gables, on the strength of screen enclosure design and instalation," Noe said.
Venetian Builders is on pace this year to more than double its total 2012 residential sales throughout South Florida, Noe said. The company designs and installs not just pool screens but also aluminum sunroom additions and patio covers in Miami-Dade, Palm Beach and Broward counties, and in the Keys in Monroe County.
Venetian's pool domes use heavier-gauge aluminum framing members that are stronger than typical supports but maintain the elegant look, Noe said. "We build to surpass high-wind regulations, even when we are not required to," Noe said. "That assures our customers that they'll get a structure unparalleled in its ability to withstand hurricane-force winds."
Venetian engineers, in addition to specifying the heaver-gauge frames, add strength to pool enclosures with properly sized, custom-fabricated gusset plates, with K-braces or cables for corners, with stainless steel fasteners and with extra-strong anchors.
"Those are things that bolster structural integrity in high-wind areas, such as along the coast, canals, inlets and other waterways, golf courses and parks," Noe said.
Noe said Venetian also upgrades existing pool enclosures built before the current Florida Building Code to improve their ability to withstand the forces of named storms.
"It makes good sense for homeowners to safeguard the structures that add so much to their Coral Gables lifestyle," Noe said.
Venetian Builders offers free estimates on screen pool enclosures, sunrooms, patio rooms and patio roofs. "We have made quality wood roofs available to residents of Coral Gables and other areas that prefer them over insulated aluminum roof panels," Noe noted.
The company also offers free in-home consultations on any of its products and services. Venetian brings its mobile showroom to homeowners seeking estimates, eliminating the need for them to travel to see options in materials and designs.
For more information, call 866-596-2427.