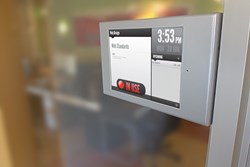 Armor Active's flexibility in working with us to match the architectural design of our renovated office space made our decision easy.
Salt Lake City, UT (PRWEB) November 06, 2013
Organizations are turning to online calendar solutions to increase time efficiency and streamline workplace communication. ArmorActive's iPad Mini Door Frame enclosure and Power over Ethernet (PoE) adapter are on the forefront of this new market. Innovative companies like Hawaiian Airlines are using this iPad enclosure solution with a conference room scheduling app such as EventBoard Pro.
"With our previous system, we didn't have an easy way to schedule ad-hoc meetings and as a company it was difficult for us to know the actual usage of our conference rooms," said Ron Anderson-Lehman, Senior Vice President and Chief Information Officer for Hawaiian Airlines. "The new version of EventBoard Pro allows us to do a better job of using space efficiently and effectively."
The selection of conference room scheduling apps is expanding, making a mobile based solution more accessible than ever. The EventBoard Pro platform, for example, is compatible with most major email calendar systems online, provides a simple user interface, and does not require an IT department to install. The ease of installation and use saves significant costs on all fronts. Companies can even customize the appearance of this software to compliment company branding or the aesthetic of their office.
"The new scheduling system is based on highly recognizable technology which makes learning how to use it easy for everyone, and Armor Active's flexibility in working with us to match the architectural design of our renovated office space made our decision easy," Anderson-Lehman said.
ArmorActive's Door Frame iPad Mini enclosure houses an iPad Mini, PoE adapter and is designed to match anodized aluminum door frames common to most corporate offices. This new edition to ArmorActive's Metal Jacket iPad enclosure line maintains a reputation of the most secure and durable solution on the market. With a cable routing hole on the mounting edge, this enclosure also maintains a clean look for passing the Ethernet cable through the mounting surface into the iPad enclosure.
The PoE adapter converts 48 volts from the source to the 5 volts a tablet requires, providing compatibility with most tablets, including the iPad Air. This reduces the expenses of high voltage electrical work and eliminates the hassle of charging the tablet at a separate location when not in use. Organizations using Android devices can also transfer data along with the power via the Ethernet cable with On The Go (OTG) technology.
The iPad conference room scheduling solution is catching the attention of many forward thinking organizations who take advantage of the latest technology to stay ahead. Since the deployment of the iPad meeting room scheduling solutions for Hawaiian Airlines, ArmorActive has supplied iPad conference room scheduling systems for other large organizations including Apple Inc. and Yale University.
ArmorActive PoE to USB adapter for iPad features:

48V to 5V converter
Standard Cat-5 Power over Ethernet Cable to USB Cable
Compatible with Apple, Windows, or Android Kiosks
802.3af/802.3at Standard Compliant
RoHS Compliant
Transfer power and data simultaneously to Android devices using OTG (On-the-Go)
Made in the USA
About ArmorActive
ArmorActive is a global tablet security solutions company. Unique in the industry, ArmorActive provides a team of Account Managers to help customers make the best decisions at all stages of their tablet-based projects, from procurement to implementation. A wide variety of ArmorActive products are available at http://www.ipadenclosures.com
About Hawaiian Airlines
Hawaiian Airlines has led all U.S. carriers in on-time performance for each of the past nine years (2004-2012) as reported by the U.S. Department of Transportation. Consumer surveys by Condé Nast Traveler, Travel + Leisure and Zagat have all ranked Hawaiian the highest of all domestic airlines serving Hawai'i.
Now in its 84th year of continuous service, Hawaiian is Hawai'i's biggest and longest-serving airline, as well as the largest provider of passenger air service from its primary visitor markets on the U.S. mainland. Hawaiian offers non-stop service to Hawai'i from more U.S. gateway cities (11) than any other airline, along with service from Japan, South Korea, Taiwan, Australia, New Zealand, American Samoa, and Tahiti. New nonstop service will begin between Honolulu and Beijing, China in April 2014, subject to government approvals. Hawaiian also provides approximately 160 jet flights daily between the Hawaiian Islands.
Hawaiian Airlines, Inc. is a subsidiary of Hawaiian Holdings, Inc. Additional information is available at HawaiianAirlines.com. Follow updates on Twitter about Hawaiian (@HawaiianAir) and its special fare offers (@HawaiianFares), and become a fan on its Facebook page (Hawaiian Airlines).