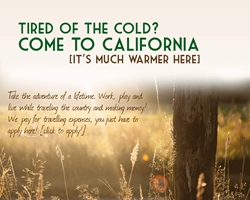 (PRWEB) November 07, 2013
Jack Frost has begun tapping on windows and creeping through your home? Is it about time to whip out that winter coat and empty the coins and lint from the year prior? People are beginning to miss that summer glow and long warm nights, and there are few solutions at hand. Sufferers can either bundle up and hope for the best, burrow into a room and hibernate, or maybe just travel to California and stop worrying about the cold!
Eco Orange Jobs is searching for 50 new employees for the winter season. The company is hard at work to get these 50 workers out to California as fast as possible. Applicants may apply at http://www.ecoorangejobs.com. The application process is simple and responsive. No more waiting around for employers to never call back. This is a great opportunity for those who love to travel and who are not afraid to be independent. Employees make money while they travel up and down the coast. This is a really fun and exciting job opportunity for young people just starting out or just starting over.
Working with Eco Orange is a great way to make money while traveling. There are tons of benefits and many reasons why traveling is a good idea, especially for the young at heart! Do not let this opportunity slip away and melt with the winter because the worst feeling is regretting something that could have been.
While traveling and living in California, Eco Orange employees will be selling eco friendly cleaner to customers. Basically, these representatives get paid to save the planet! Those who are environmentally savvy will find the mission of eco orange easily adaptable.
Eco Orange is a great job for those who just want to get away and try something new. This could be the perfect opportunity for a brand new year-and how to start it fresh. Why wait for a New Year's Resolution when today is as good as any day! Don't wait forever - apply at http://www.ecoorangejobs.com. Applicants must be 18 years of age or older and they must be able to clear a background check.
About Eco Orange:
Since 1984, Eco Orange has been committed to serving their customers and our planet with excellence. Eco-Orange™ natural citrus cleaner and degreaser combine technology with ecology providing an all-purpose product. Eco-Orange™ is a highly concentrated formula with orange oil and enzymes containing only alkaline builders and biodegradable surfactants.
The solution is truly eco-friendly and safe for pets as well as children. It is a very effective and economical product. Find out more about Eco Orange at http://www.ecoorange.com.
About Eco Orange Jobs:
Eco Orange Jobs is the hiring arm for Eco Orange products. They are a reputable company that takes care of its employees and understands the travel job industry. Find out more information at ecoorangejobs.com.