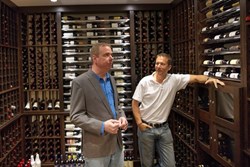 Joseph Kline and Curtis Dahl were traders in Chicago before they became two of the most sought-after wine-cellar designers in New York.
NORTH PLAINFIELD, NJ (PRWEB) November 06, 2013
Joseph & Curtis Custom Wine Cellars was recently featured in the Wall Street Journal. "From Traders to Cellars" appeared on the website's NY Culture section. Joseph & Curtis co-founder Curtis Dahl was also interviewed for a video segment, entitled "How to Build a Wine Cellar," which appeared in the Wall Street Journal's Wealth Adviser section, and served as a companion to the main article.
"From Traders to Cellars" traces Dahl and co-founder Joseph Kline's path from Chicago stock traders to wine cellar builders serving the New York City area and beyond. The article explores the particular difficulties inherent in designing, delivering, and installing wine cellars in city apartments, where every square inch counts.
In the video, "How to Build a Wine Cellar," WSJ Wealth Adviser's Veronica Dagher visits Curtis Dahl at a Manhattan apartment to look at a recent wine cellar installation there. Dahl provides details about the installation, as well as important points to consider when planning a wine cellar.
"We are so proud and humbled to be highlighted in the prestigious Wall Street Journal," said Dahl. "At Joseph and Curtis, we take tremendous pride in our design capabilities and stand ready to create the wine feature of your dreams," he added.
About Joseph & Curtis Custom Wine Cellars
Founded in 2001, Joseph & Curtis Custom Wine Cellars designs, builds, and installs custom wine cellars, wine cabinets and wine racks for wine enthusiasts around the US and the world. They have earned a favorable reputation among homeowners, retailers, and hospitality industry leaders in New York, New Jersey, Connecticut, Pennsylvania, Florida, Illinois, California, Texas and beyond. They are recognized for their designs, which range from traditional to contemporary wine storage, for their meticulous craftsmanship, and for their dedication to completing each project to perfection. Joseph & Curtis also sells wine cellar accessories, including wine cellar doors, wine cellar cooling systems and custom wine racks from their website: http://www.josephandcurtis.com/.