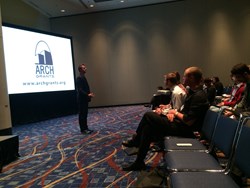 St. Louis, Missouri (PRWEB) November 06, 2013
RoverTown COO Jeffry Harrison shared his strategic insights at this past weekend's Collegiate Entrepreneurs' Organization (CEO) National Convention. Arch Grants, the global business plan competition in St. Louis, awarded Jeffry and Rovertown with a $50,000 grant as a 2013 Arch Grants winner.
RoverTown's student discount program is able to differentiate itself in the saturated market by meeting students where they are most: online.
Jeffry's marketing and sales strategies have significantly aided RoverTown's growth to over 70 colleges and universities in the US. Over 1.4 million students now have access to RoverTown's Student Discount Program.
By providing their services via the web and mobile applications, Jeffry and the RoverTown team are able to collect much more interesting and useful data on the coupon-provider's customers. This data, previously unavailable to businesses that collect paper coupons, is valuable for future marketing and customer relationship purposes.
In addition to the digital and analytic components, the strategy of working directly with the colleges and universities has been a big success. Whereas competitors will hand out paper coupon books on campus, RoverTown contacts the school's administration directly, so as to be promoted by the individual college or university.
CEO is an entrepreneurial network with over 245 collegiate chapters. Their National Conference, held annually, brings together students, faculty, and young entrepreneurs to learn skills and expertise from successful entrepreneurs like Jeffry.
Jeffry's interview with CEO can be heard here.
About Arch Grants
Arch Grants is a unique not-for-profit organization whose mission is starting and building entrepreneurial companies in St. Louis. In its first two years, Arch Grants has awarded $1,950,000 to 35 startups. These awards are unique because the organization does not take equity from the companies; they simply require that the startups start their business in St. Louis.