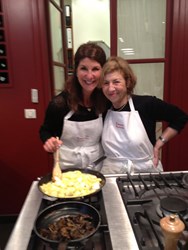 San Diego, CA (PRWEB) November 06, 2013
Even while on vacation, Chef Jodi could not resist learning the cooking techniques and distinct cuisines of both Barcelona and Paris. The result? Combining work and play, Chef Jodi enrolled in two hands-on cooking classes and acquired many new, exquisite recipes to share with her customers at Lajollacooks4u!
While in Paris, Chef Jodi didn't just shop in the très chic fashion districts, but also explored the French grocery market scene. With Chef Paule Calliat, from the culinary school Promenades Gourmandes, Chef Jodi was guided on a wonderful market tour for the freshest meats and produce, before heading to Calliat's fabulous state-of-the-art kitchen for the first of the two cooking classes. Having conducted cooking classes and market tours for over seventeen years in Paris, Calliat impressed Chef Jodi with her expertise in French cuisine. As part of the cooking class, Calliat included a wine and cheese-pairing course, where Chef Jodi discovered the most delicious French cheeses. The final course, two desserts of a mouth-watering Apple Gallette and a scrumptious Soufflé, is bound to be a hit with guests of Lajollacooks4u!
The second destination, Barcelona, Spain, included a three-hour "Foodie Tour" with Chef Dominique Heathcote. Heathcote, a Cordon Bleu-trained chef, while knowledgeable in many different cultures and their dishes, expressed a deep passion for the Catalonian cuisine. Chef Jodi was able to create an incredible gourmet meal, incorporating the true heart and soul of Cataluña, with many types of local seafood, all featuring that true Mediterranean flavors. Some of Chef Jodi's favorite recipes from her Barcelona trip include appetizers of Figs in Wine with Ricotta cheese and Peppers stuffed with Cod, and a wonderful entrée of Fideuà, a pasta dish with Calamari and Chicken.
Chef Jodi is glad to be back and is excited to share these recipes with Lajollacooks4u. "I look forward to recreating with our guests the delicious recipes I have gained through my travels abroad," Chef Jodi said. "I love taking cooking classes when I travel and learn from other chefs who do what I do."
With the amazing new dishes Chef Jodi has to share, her guest will have an experience to remember.
After one class with Lajollacooks4u, any Holiday dinner guest will certainly be impressed with the latest recipe additions to their culinary résumé. Make those reservations quick before the holidays roll around!
About Lajollacooks4u
Lajollacooks4u, founded in 2008, provides a unique and intimate activity for couples, corporate team-building, and any foodie looking for a unique cooking and culinary experience in an ideal setting overlooking the Pacific Ocean. Lajollacooks4u also offers Foodie and Market Tours of San Diego and 2-day culinary weekends. Based in La Jolla, a suburb of San Diego, CA, Lajollacooks4u has enjoyed record growth since its inception and is ranked as a top attraction in La Jolla on the world's largest travel review site, Trip Advisor. For more information, contact Jodi Abel at jodi(at)lajollacooks4u(dot)com or phone 1-858-752-4980.