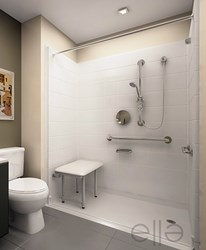 We are truly excited to have another positive customer review!
New York, NY (PRWEB) November 06, 2013
A specialized elderly bathtub company, Aging Safely Baths announces a new online testimonial for another satisfied customer. Clients can independently publish reviews on roll in shower stalls, hydrotherapy walk in tubs and several other handicap bathing products.
Being able to read about other people's experiences can sometimes be reassuring. Visitors may even inadvertently answer their own questions while reading the testimonials. Several of the reviews are on the products themselves, however feedback on the company is also strongly encouraged.
Finding quality low threshold bathing products can be incredibly difficult, especially for people that simply don't know where to look. Searching online can become especially confusing trying to tell who's a local supplier, versus someone out of China. Buying domestically or locally can offer a couple potential advantages beyond quality of product.
Personalized customer service is probably one of the more important things to look for when considering a handicapped shower or walk in bathing unit. There are several different sizes and options available, so it's critical for customers to select a product that best suits their unique needs.
Those researching and considering making a purchase may want to consider these important factors. Ensuring body size fits comfortably for all bathers, the water heater can keep up with demand of the new bathing appliance, there are no installation size restrictions and the desired accessory options have been selected. Overall there are several technical variables to consider in addition to these suggestions. Fortunately, Aging Safely has trained professionals who can answer any questions that prospective clients may have regarding installation and product specifications. In addition, the company maintains and excellent rating and membership with the BBB.
Furthermore, commercial organizations such as nursing homes, long term care centers and assisted living facilities can take advantage of the lowest prices nationally on 12" and 24" ADA compliant stainless steel safety grab bars. Customers also have the option of purchasing domestic or imported. Shoppers located in the continental U.S. receive no cost freight on roll in showers and step in tub products that are delivered to both residential and commercial locations.
There are several important factors that should be taken into consideration when improving a bathroom. Having accessibility that's conducive to the bather's mobility ability level is paramount. A nice open bathroom can potentially make it easier if a caretaker is required as well. Adding safety grab bars by the bathing appliance and in other difficult to maneuver areas can make a noticeable difference for those that suffer from mobility restraints or conditions that effect balance.
Clients can also select from a wide variety of acrylic and gel coat bathtubs depending upon their preference and needs. Front entry step in tubs are also a popular option for those who are considering replacing a shower with a bathtub shower combo. Ultimately, the company offers some of the best industry leading warranties and products. To learn more, please visit http://www.agingsafelybaths.com or call a customer care representative today for a non-obligatory consultation.
Contact Information:
Zach Wennstedt
1-888-779-BATH(2284)
info(at)Agingsafelybaths(dot)com